Oil Paints
M Graham Oils These paints are what I currently use. Highest quality pigment rich oils with a walnut oil binder. Walnut oil outperforms linseed oil which is used in most oil paints. I use walnut oil medium so there are no toxic fumes. I don't clean my brushes now, I just leave them in a long plastic covered box (celery container) soaking in safflower oil.
Cobra Water Mixable Oils If you find yourself sensitive to the fumes from oil painting mediums and solvents you could use these paints. I simply use Walnut Oil as the painting medium. They wash off with soap in warm water and they're simply the best water mixable oils I've used. They don't have quite the strength of colour of M Graham oils. NEW ZEALAND artists can get these here: www.tasmanartsupplies.co.nz
Oil Painting Mediums Painting mediums help the paint flow better on the canvas. Beginners often make the mistake of using turps throughout the whole painting, which leads to very thin chalky paint. I generally use walnut oil now. It doesn't yellow over time like linseed oil can do and it has a nice long drying time. I use aklyd walnut oil medium if I want it to dry extra fast, although that does have toxic fumes like all fast drying mediums, so it's best used outdoors.
Odourless Solvent for Oils Turpentine is traditionally used for thinning oil paints in the sketch or blockin stage and for cleaning brushes. However, it gives off toxic fumes, so many artists now use odourless solvents instead. These still do give off toxic fumes – you just can't smell them. I use Gamsol which is perhaps the best of them all.
Acrylic Paints
M Graham Acrylics Highest quality pigment rich full body standard acrylics.
Golden Open Acrylics These have a very long drying time which allows you to create blends and soft edges easier. They are a little more fluid than usual – not a lot of body.
Atelier Interactive Acrylics These have a slightly longer drying time than standard acrylics and have the unique ability to be re-wet and worked again with water or their 'unlocking medium'. I've found the smell to be troublesome in the studio but some people don't mind it.
Acrylic Accessories Water Sprayer – for reworking after short periods. Unlocking Formula – for reworking after long periods with Atelier Interactive Acrylics. Retarder Medium – use this retarder in very dry conditions. Mix 1 part retarder to 10 parts water. Gloss Medium Varnish – Used to change the sheen levels of acrylic paints, or as an over-varnish that provides a non-tacky protective coating for acrylic painting. Available in Gloss, Matte, and Satin.
Brushes
I use Rosemary & Co. brushes for their excellent quality flats. The bristles are long and springy which means they can hold a lot of paint and still give a beautiful calligraphic brushstroke. The handles are long which allows for looser handling. They are very durable being made from high quality materials. You can purchase the complete Richard Robinson Brush Set here: www.rosemaryandco.com/richard-robinson-set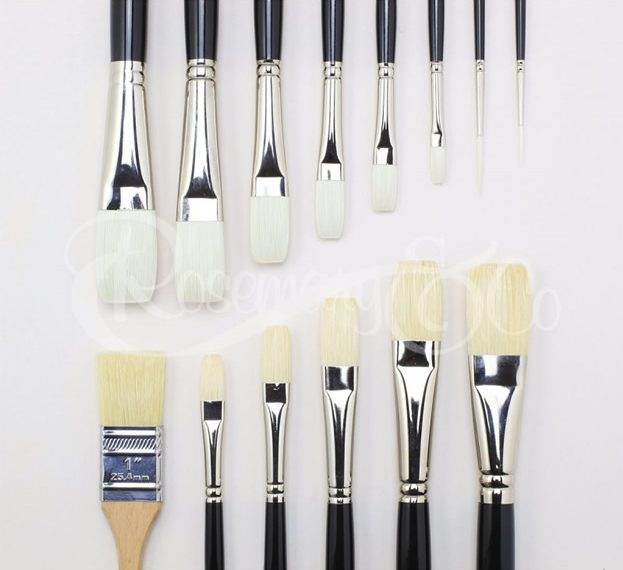 The Richard Robinson Brush Set by Rosemary & Co.
Easel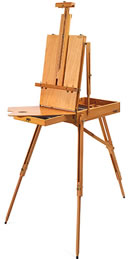 Mabef French Box Easel
I got this Mabef French painting easel for my 30th Birthday and I've always loved it. You can use it with the legs extended or folded away as a tabletop easel, it can hold large and small canvases and has plenty of storage room for everything you need. I wouldn't want to go hiking with this one because it's fairly weighty fully loaded but if you don't have to walk more than 5 minutes to your painting location it's perfect.
Colours
I recommend having these colours (or similar) for a full palette in oils or acrylics:
Titanium White
Cad Yellow Light
Cadmium Yellow Medium
Cadmium Orange
Cadmium Red Light
Cadmium Red Mid
Permanent Alizarine
Quinacridone Magenta
Brilliant Violet
Ultramarine Blue
Phthalocyanine Blue
Phthalocyanine Green
Permanent Green Light
Burnt Sienna
Carbon Black
Canvas
I use Fredrix Ultrasmooth Polyflax canvas which is stronger and more resilient than any purely cotton canvas of the same weight. Here is a practically identical canvas at Blick.com :
Fredrix Style 901 Polyflax Cherokee Portrait Canvas.