November 4, 2020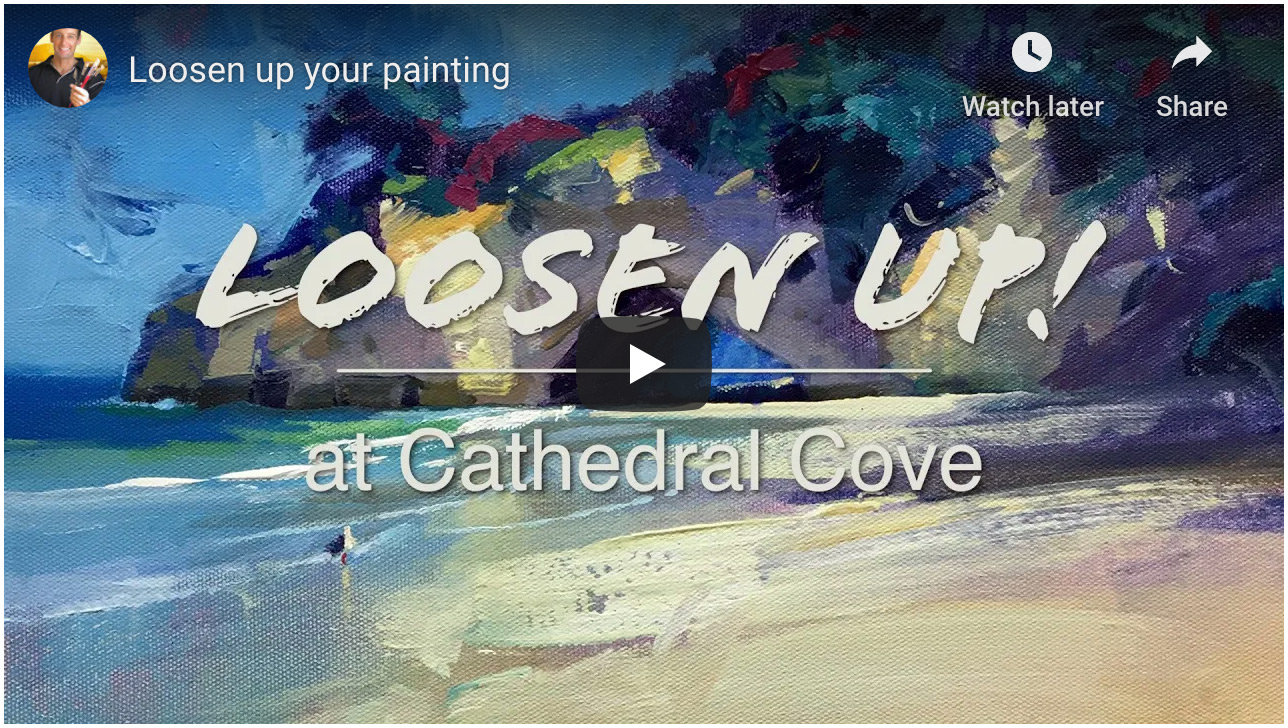 Ever been on a video call to 50 people? Demonstrating a painting? It's somewhat disconcerting. Not least of all because you can't see their faces or responses. If you have an anxious disposition it'll pay to wear your brown pants.
A few weeks ago I got a request from a dear friend Wendy Heyt Gordin in California to give a livestreaming video class to her art group of 50 painters. I can tell you it was 50/50 whether I said yes or no, but Wendy is one of the sweetest people I know and I didn't want to let her down, so I agreed and got to work figuring out the technical can of worms that is livestreaming multiple cameras and audio.
TECHNICALS
If you're interested in the technical stuff, or doing it yourself, here's the setup I found most efficient with the gear I had at hand, after 4 days researching, testing and tweaking:
Main camera: iPhone 6S with Rode Smartlav+ for audio.
Face Camera: iMac facetime camera.
Streaming Software: OBS Studio
Streaming Platform: Youtube Live
I also had Wendy join me on Messenger chat audio, so that she could be a host for the show, which worked really well. It was great to have her keeping me company, asking good questions and reading questions from the audience in the group text chat.
WHAT COULD GO WRONG?
Having given so many real workshops, nowadays it's more fun than anything, a little nervy at the start, but mainly fun. However, throw in the technical aspect of live streaming and it gets quite hairy.
There's so much technical stuff that can go wrong! The audio could be glitchy or too laggy, the video stream could be low quality due to connection problems, a visitor could show up at your door, the heavy camera use could overheat your phone and turn itself off, you may have eaten beans, you may develop a stutter or facial tick, the cat could get a hairball, the kids could arrive home from school and bang all the doors and ask why they can't use the wifi, the camera could be unfocused, someone in the audience could ask a very clever question that you don't know the answer to, and above all that, the painting could turn out very bad indeed due to all the stress, or just plain bad luck.
Thankfully, NONE of that actually happened. But it could have. If it wasn't for Wendy being such a great host I think I may have lost my nerve altogether and run off, leaving everyone staring at my empty studio.
In the end, after all the research and prep and trial runs, it all came together nicely, and in fact I had fun with it.
FEEDBACK
I've asked people to give feedback on it and so far it's all good:
"I am crying because of the joy I have experienced watching you paint again. You asked to leave a message of what did I think of this way of give a lesson (a chatty one) like this of Loosening up Cathedral Cove. Chatting with Wendy in the background was awesome. I've not painted since you last saw me in Mexico. I've let Trumps presidency consume me along with news about Covid 19. I want you to know I am going to paint again. Thank you."
"Hi Richard, I enjoyed painting 'Cathedral Cove' and found it quite entertaining with all the viewers. It adds the little extra dimension with people asking questions and having a good time watching you paint.....Cheers"
PROS
I think this could be a way forward for me. I've made hundreds of painting videos and it takes days to edit each one, but just hours to film, whereas when I record a livestream there's no real need to edit it any further and you get to watch it again at your leisure.
It's much more engaging for people to participate in and watch later on.
CONS
Technically it's a house of cards - any small glitch can ruin the process.
Depending on the lesson, the preparation can take a long time.
CONCLUSION
Scary, but good! I'll definitely be doing this again, perhaps this month. I'll let you know when.
Get the full lesson here: https://mypaintingclub.com/lessons/207-Cathedral-Cove