Follow me one brushstroke at a time as I take you through the process of creating a large acrylic painting which has all the hallmarks of an oil painting. Learn to create large gradations, soft edged brushwork and sparkling impasto highlights.
Good design, accurate drawing, passionate brushwork and a variety of fun techniques are all demonstrated in the video. Enjoy!
Oils are fine for this lesson too.
Get the Full lesson here:
https://mypaintingclub.com/lessons/215-After-the-Storm

After the Storm Demo 36x48" Acrylic on Canvas
Student Critiques
After the storm, acrylic with oil glazing, canvas, 40 cm x 50 cm
Artist: Elena Sokolova
Hi Elena, an interesting effect you've achieved with the oil glazing over the acrylic. Nice to see you sneaking in a little mauve and blue - quite a shimmering colour effect. Your drawing is very good in this one and there's a lot of exciting gestural brushwork. Great to see! The only suggestion I have is to check the light blue/grey you have introduced to the shadow side of the boat because the value is a little too light and the colour a little too blue. It's just not sitting there quietly enough. You could try glazing a dark mixture over it but that will also affect the other colours there, making them too dark so I'd prefer to see it repainted. Overall very beautiful though!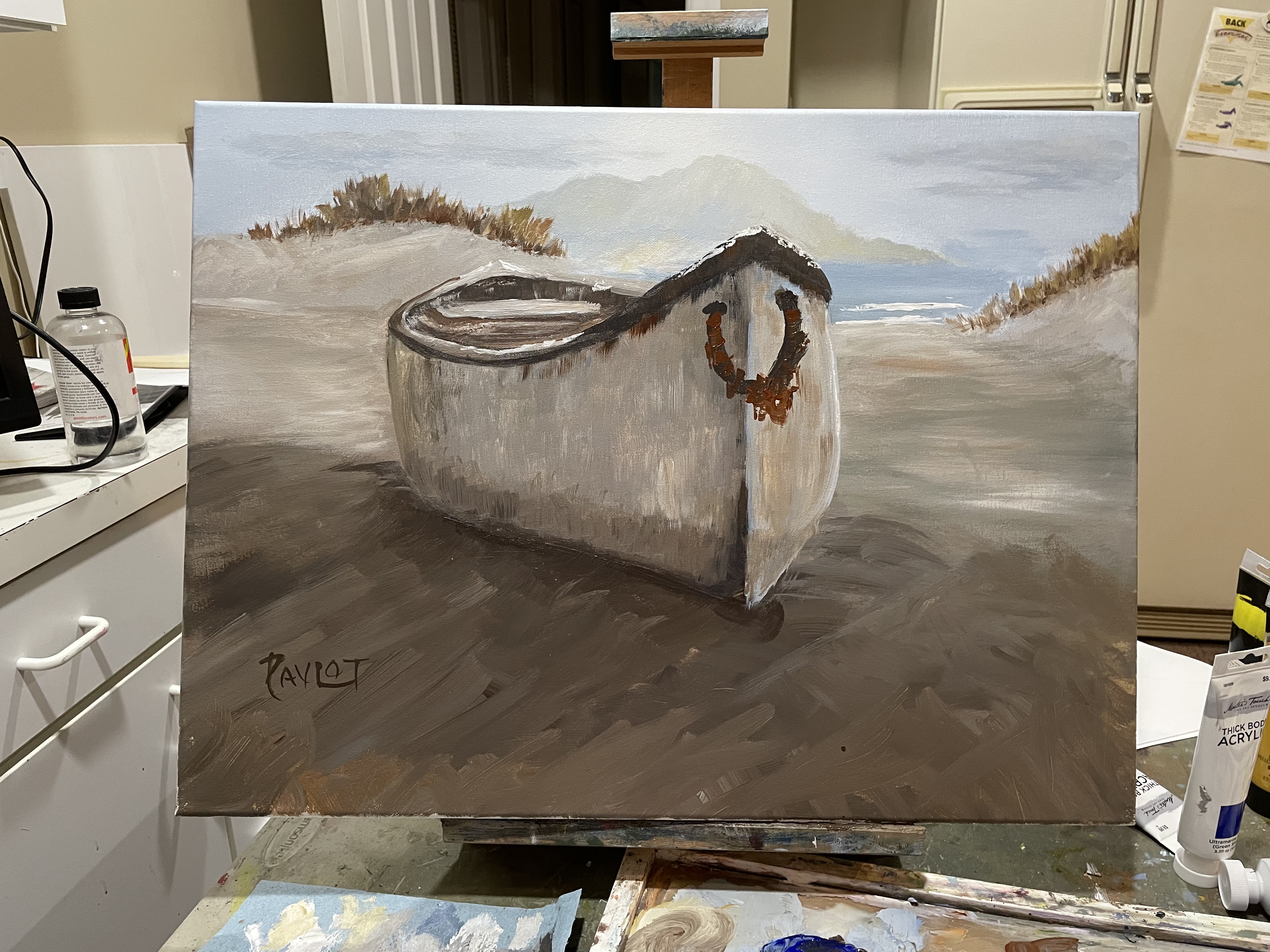 Grandfather's Traveler
Artist: Gregory Pavlot
Hey Gregory, great bold work! Good to see you painted it a large size and still managed to make it look very painterly. A lot of people struggle with that. Big brushes and loads of paint, that's the ticket! You've got the atmospheric perspective working really well, which means you paid close attention to the relative values of your colours as the recede from foreground to background. Great! That really does look like sunlight in the sky and mountain. Good job there. You also managed to handle the subtly lighter values in the rear of the boat that help to project the bow forwards in space. Nice! Two things could do with thinking about next time.
1. Be a little more careful with your drawing. With boats and anything symmetrical, subtle errors make a a big difference. Compare it in a mirror to the photograph. You'll instantly see the differences.
2. Be more aware of the direction of your brushstrokes. Painting too many all in the same direction can flatten the image and loses an opportunity for variety.
Hope that helps.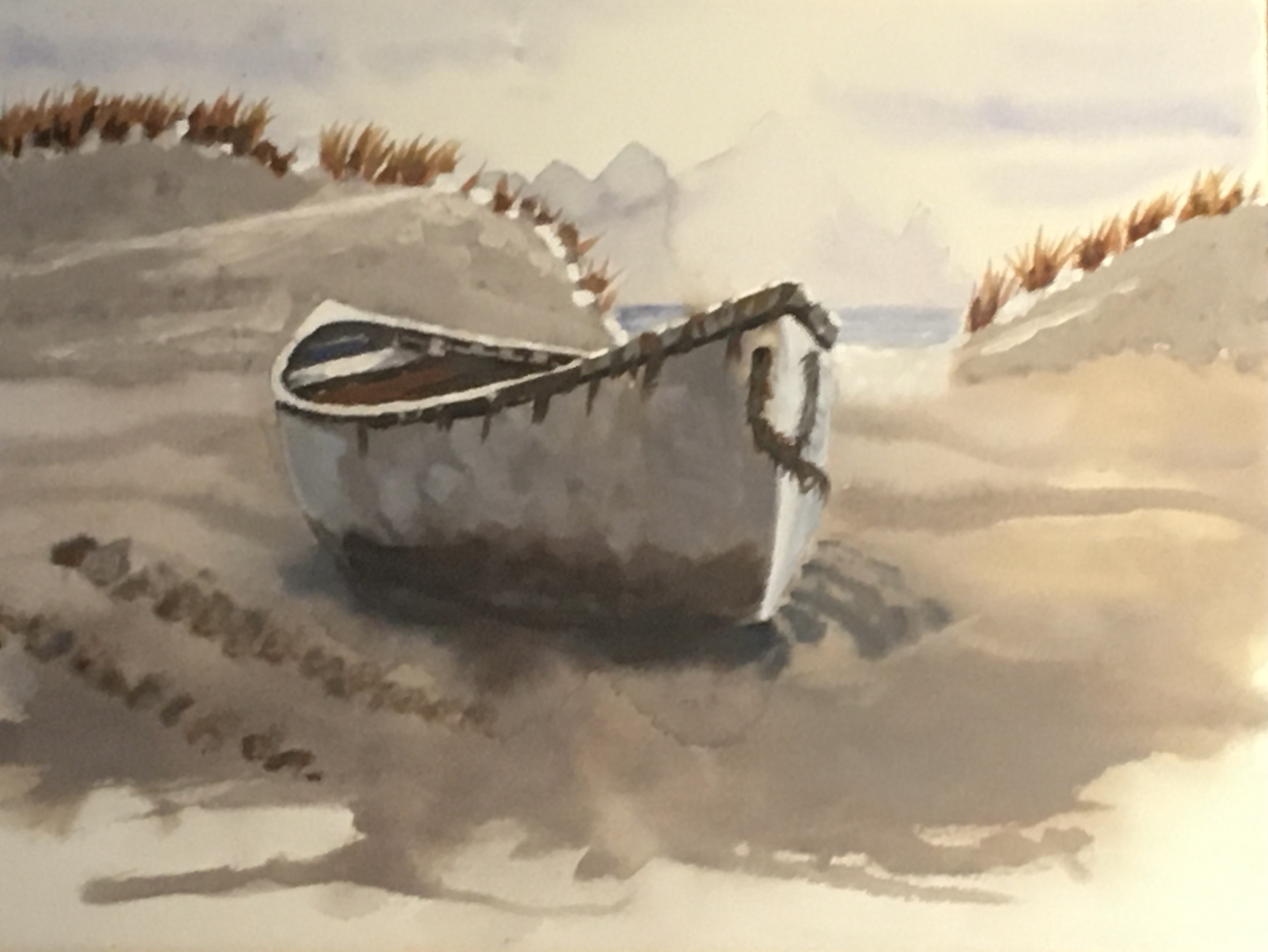 "After The Storm" watercolour & gouache, by Eric Hillmer, Toronto, ON, Canada.
Hey Eric, nice to see this one in watercolour! Great job too with all the colours and sense of light. Just the drawing letting you down a but and I'd spend some more time experimenting with making those splashy foregrounds on separate paper. Watercolour is perfect for that. Just takes a bit of practice.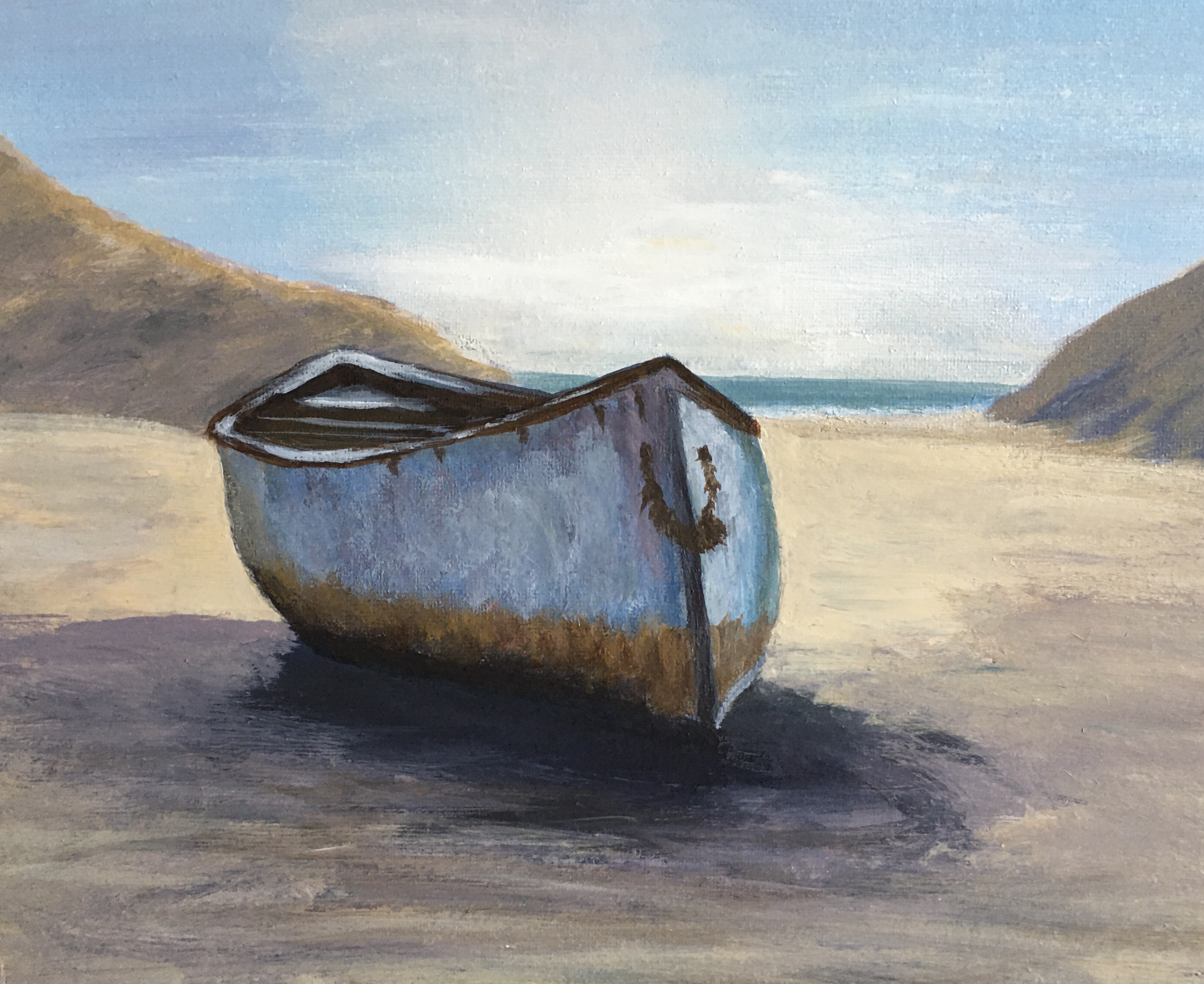 'Quiet Beach' in (ordinary) acrylics!
Artist: Barbara Magor
Hi Barbara, yes it does feel like a very quiet beach! The tighter your style, the more quiet the beach will seem. Looks like you've come to appreciate how fast normal acrylics dry, so you've ended up painting over dry layers and that gives you the grainy dry brush look with lots of hard edges. Maybe that's what you were after, but it wasn't what I was teaching. You know, that was about the seventh time I've painted that boat, so of course I can paint it very quickly now, which, combined with the techniques I showed in the video, gives a very painterly wet in wet look akin to oil paints. If you were to paint this one again you'd be able to paint it a little faster and avoid much of the dry-brush look. Also, check your boat against the photo in a mirror. The drawing's a bit wonky. You've created a good sense of light and space in the background. Good on you!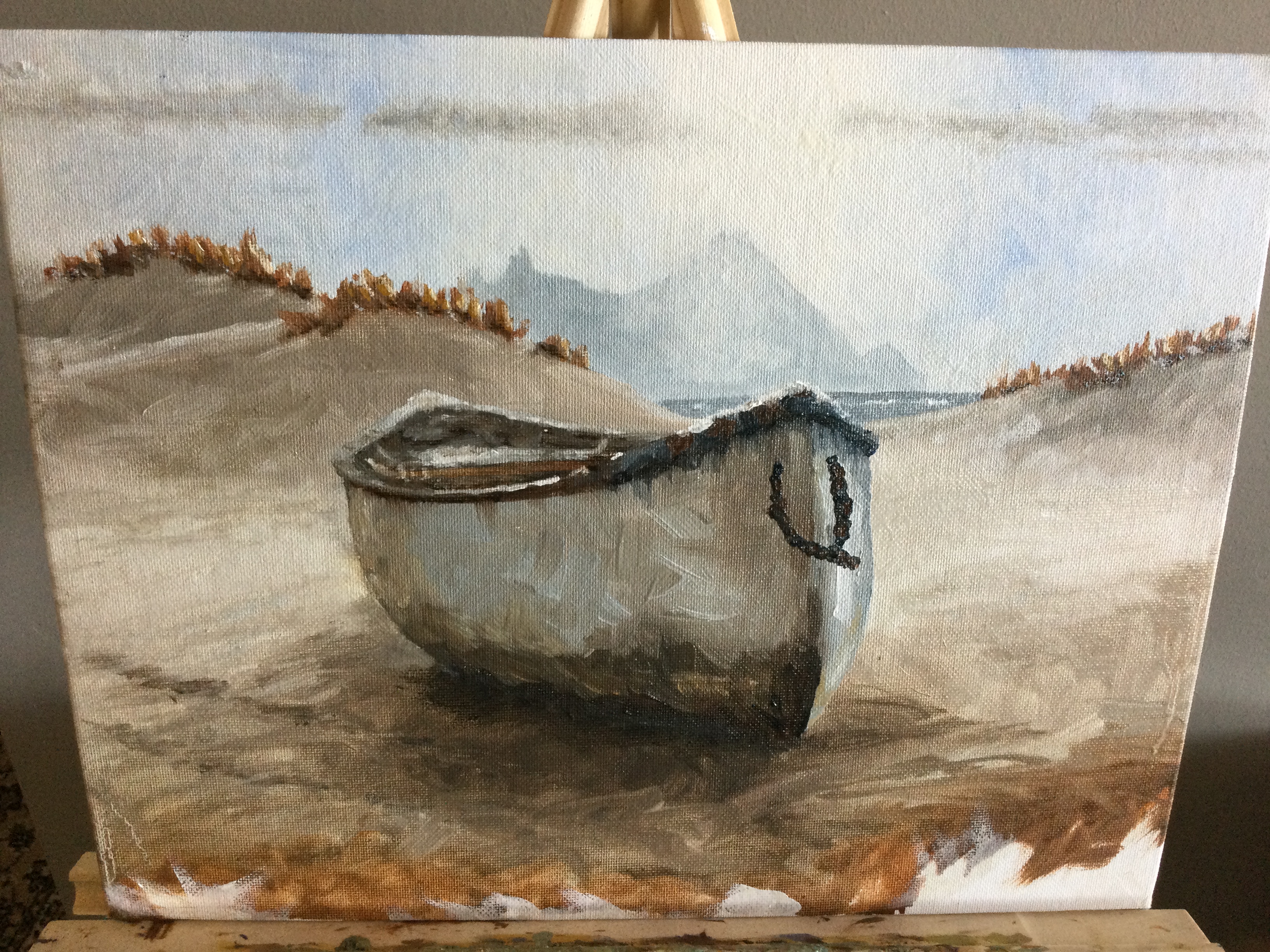 After The Storm Oil video lesson 3.21
Artist: Jill Frazier
Hi Jill, nice work. Great to see this on a smaller scale. I love your expressive brushwork that ties the whole painting together. Looks to me like you may be using a little too much painting medium with your oils and it's letting the weave of the canvas show through. Try painting with less medium and use bigger piles of paint. Other than that I've only got praise for this one. Nice!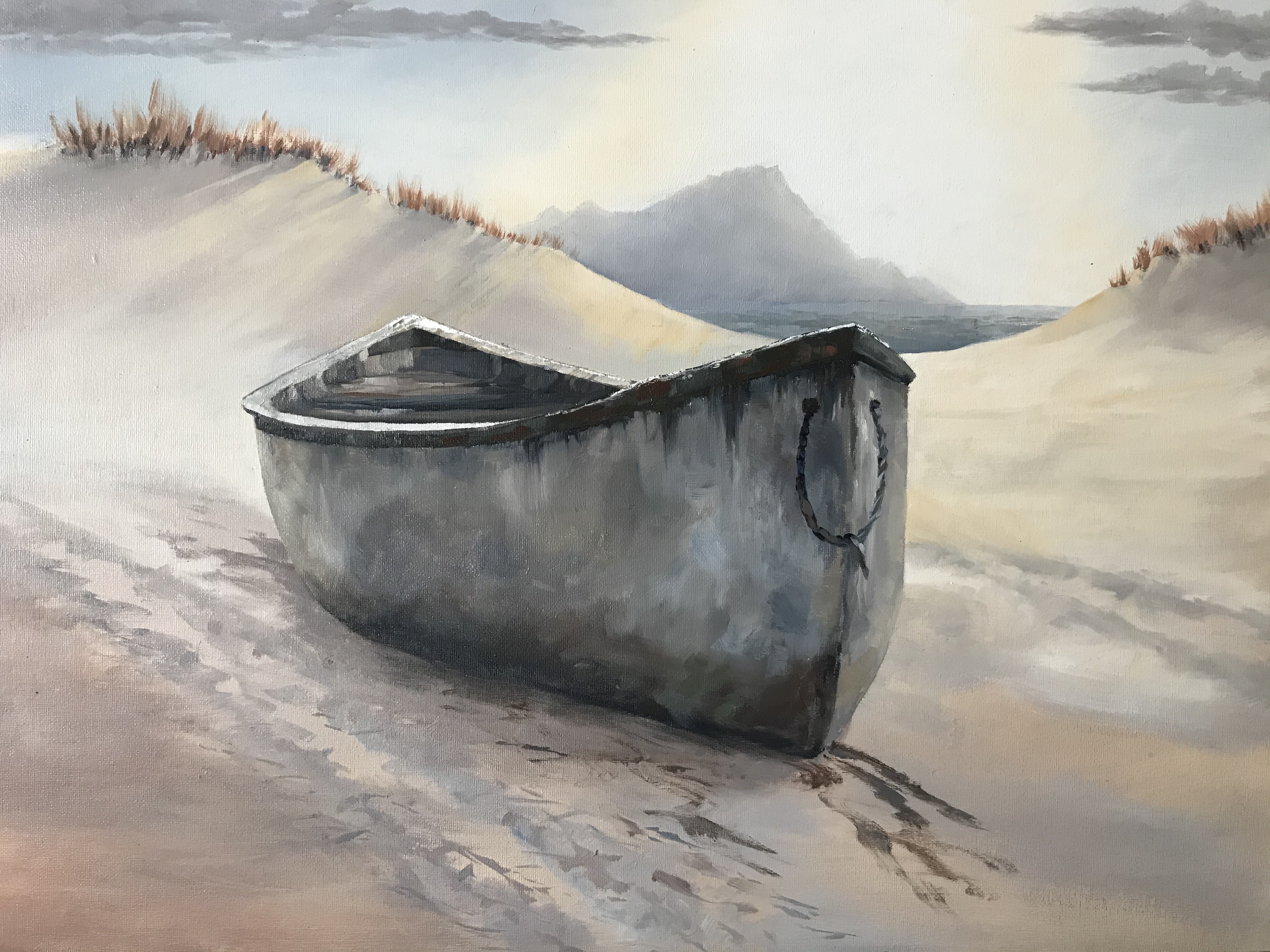 'Washed up' by Lindsay Shaw
Great work Lindsay! Love that intense glow in the sky and the real sense of light on the mountains. Beautiful subtle shadows cast by the dune grasses too, though the grasses themselves could do with a little fertiliser. The drawing of the boat is pretty decent and there's a lot of nice expressive brushwork in there. If you darken the foreground sand a little more it will connect with the boat better and also provide a stronger sense of depth as the eye travels from the shade into the light. Nice job!
Thanks to everyone who was part of the monthly workshop!