Find your peace painting these water lilies inspired by Monet.
Follow me one brushstroke at a time as I take you through the process of creating an acrylic painting which has all the hallmarks of an oil painting. Learn to create large gradations, soft edged brushwork and sparkling impasto highlights.
Good design, accurate drawing, passionate brushwork and a variety of fun techniques are all demonstrated in the video. Enjoy!
Oils are fine for this lesson too.
Learn About
Acrylic process
Inventing a scene from scratch
Creating a true sense of light
Light and water effects
Lots more!
Get the Full lesson here:
https://mypaintingclub.com/lessons/217-Water-Lilies

Water Lilies 14x16" Acrylic on Canvas by Richard Robinson
Student Critiques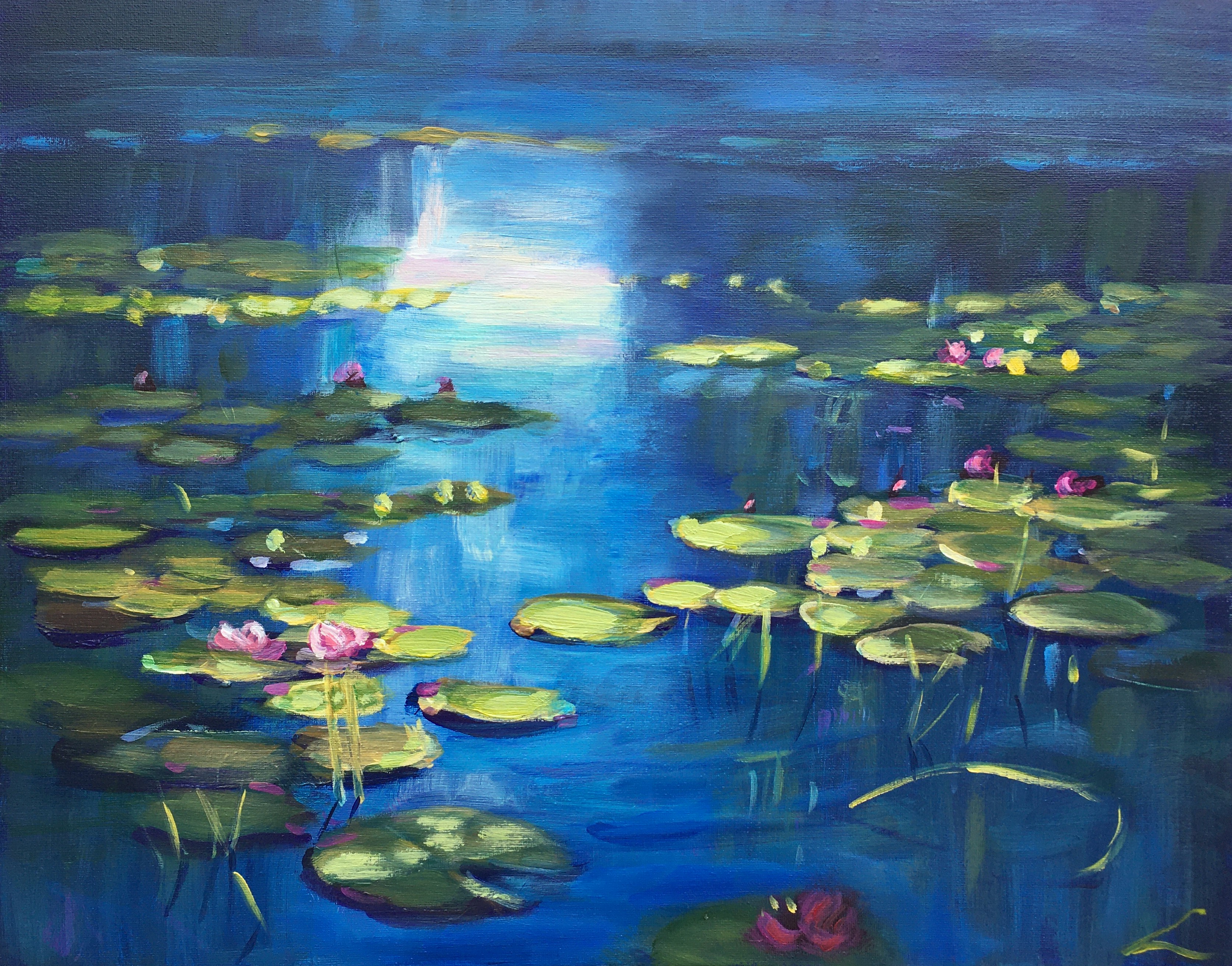 Water lilies, acrylic with oil glazing, canvas, 40 cm x 50 cm
Artist: Elena Sokolova
Great work Elena. Nothing I would change. Nicely done.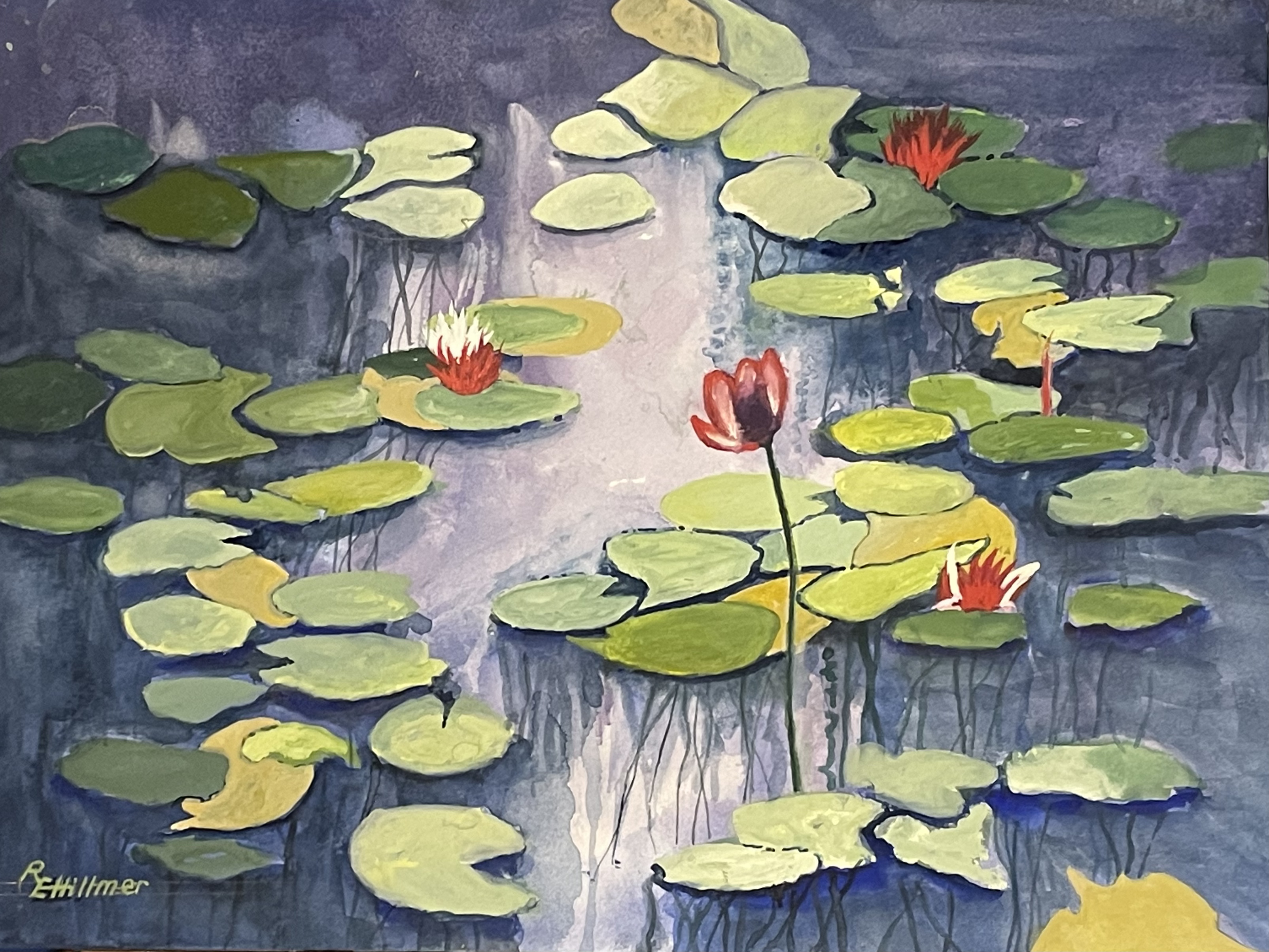 "Water Lilies" Watercolour & Gouache by Eric Hillmer, Toronto, ON, Canada
Artist: Eric Hillmer
Great to see you working this out in watercolour and gouache, Eric. Really nice effects. Not sure of the odd shapes of some of the lilies - almost as if you're trying to shape them into a larger hidden picture, morphing them out of their natural circular forms. Am I missing something there? Makes for a very interesting painting anyway that I want to keep looking at so that I can decipher it! Good work.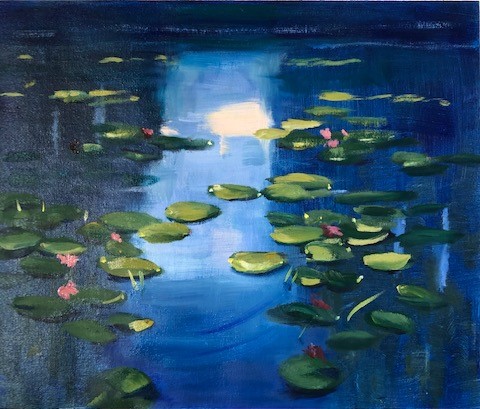 Water Lilies oil on canvas 12x14
Artist: Nancy Newton
Great job Nancy, I'd just offer that if you want a lighter feeling painting you need to add more light, that is, more, or larger water lilies with light on them, as I discovered in the demo painting video.
Water Lilies lesson oil 12x15 (fell off easel face down twice!)
Artist: Jill Frazier
Hi Jill, nice work. Feels a little underpopulated to my eye, edging closer to abstraction, and would like to see a little more information in the top third of the painting. Looks like you had fun though which was the whole point. Great!
Thanks to everyone who was part of the monthly workshop!