February 8, 2023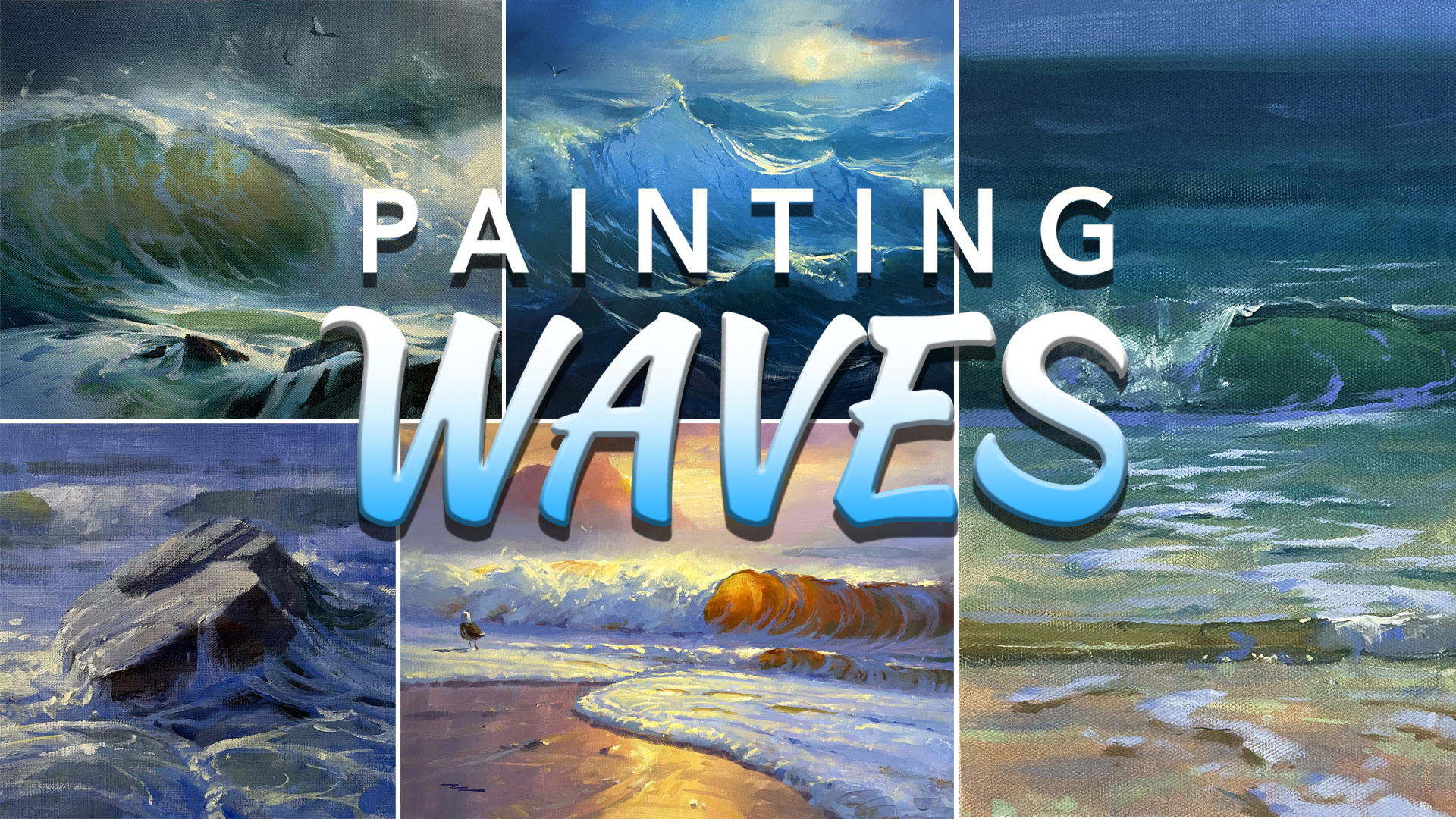 LEARN TO PAINT WAVES FROM ZERO TO HERO.
The ocean is often a subject of fascination for painters because of its inherent beauty and its ability to evoke a range of emotions from awe to tranquility, from fear to love.
The ever-changing patterns and movements of the ocean and its waves provide endless opportunities for artistic expression, making it an appealing subject for every of artist.
Learn more in the Painting Waves Course for acrylics or oils, beginner to advanced.
What materials are used in this course?
Atelier Interactive Acrylics
Phthalo Blue
Brilliant Magenta
Napthol Red Light / Cadmium Red Light
Yellow Ochre
Arylamide Yellow Light / Cadmium Yellow Light
Titanium White
Canvas
Fredrix ultrasmooth canvas.
You could use a canvas panel or anything you prefer.
Brushes
Rosemary & Co. Richard Robinson Brush Set
Palette knife
Paper towels
Stay-wet palette
Water spray bottle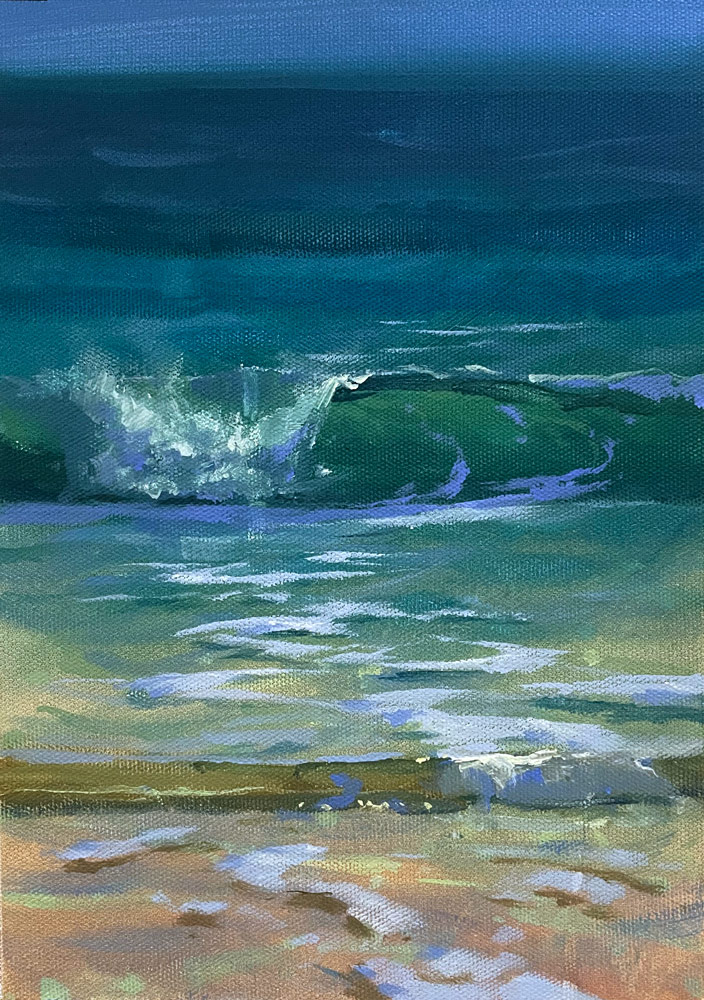 Tropical water small wave demo by Richard Robinson. Acrylic on canvas.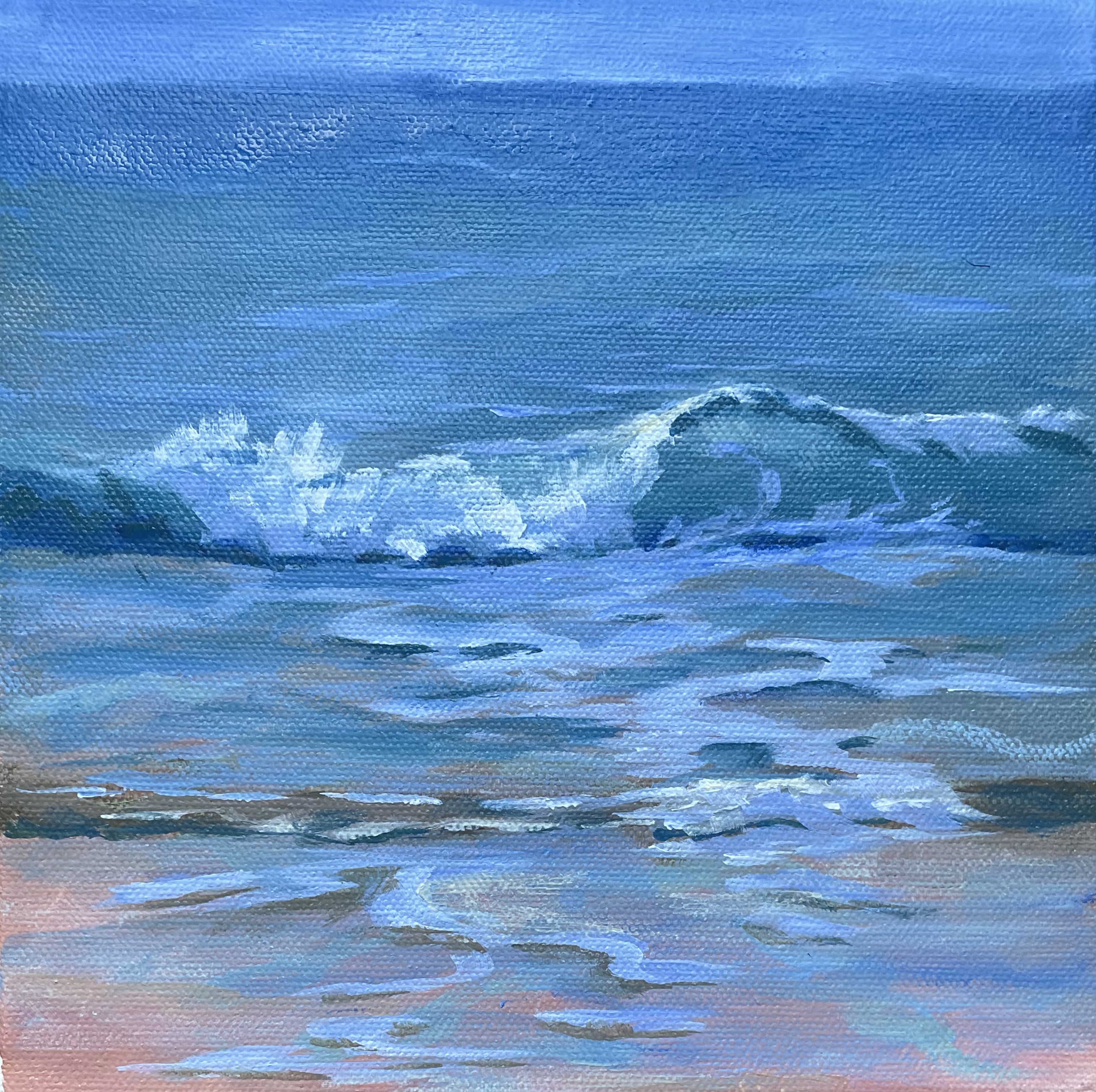 Waves by Isabel Gibson
Great job Isabel. Colours, brushwork and shapes are all good. Would just add a few incoming swells in the background with a slightly darker blue/green to finish this off.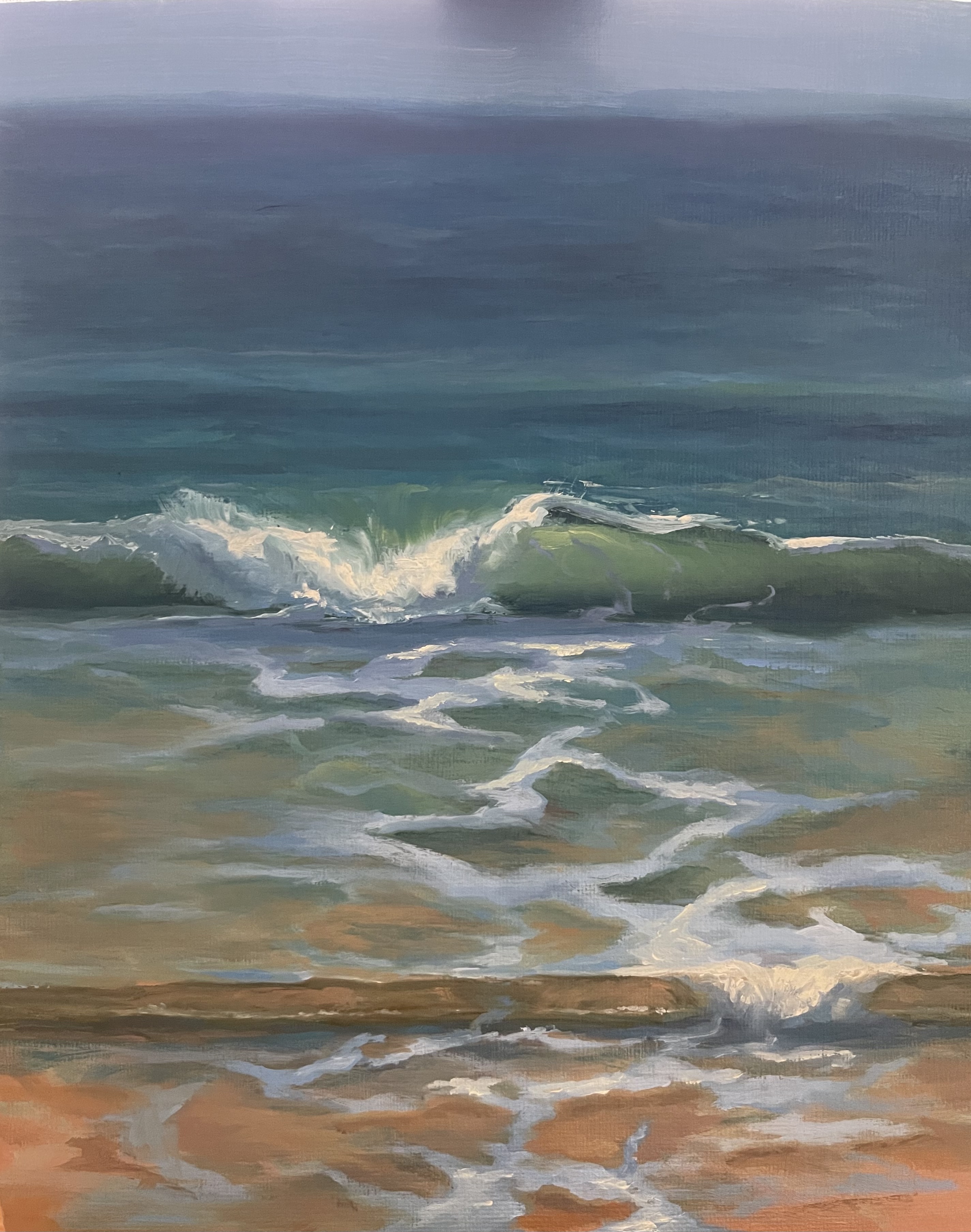 Sea foam by Darla Calhoon-Rice
Great work, Darla. Your colour transitions are great. You can really see the thickness of the water in the wave due to your careful work along its edge. The small wave is working exceedingly well. I'd just like to see you take a longer look at the foam patterns on the flat water. The colour is fine but the shapes need work. Tricky wee things!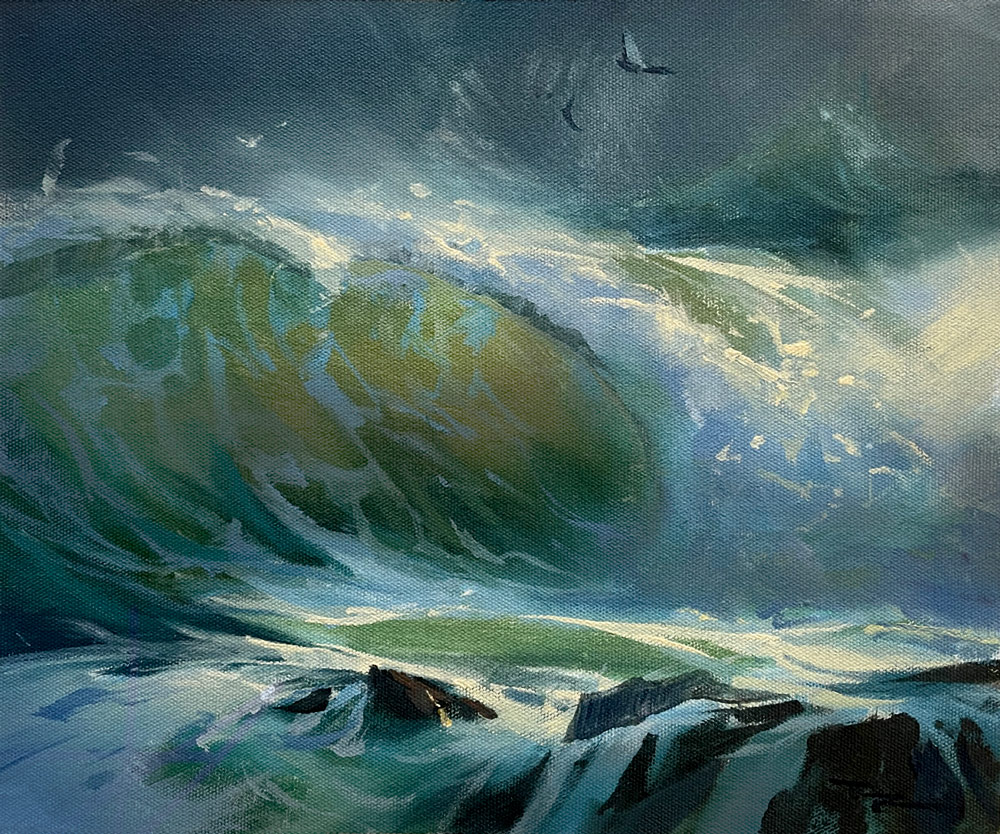 Green Wave Demo by Richard Robinson. Acrylic on canvas.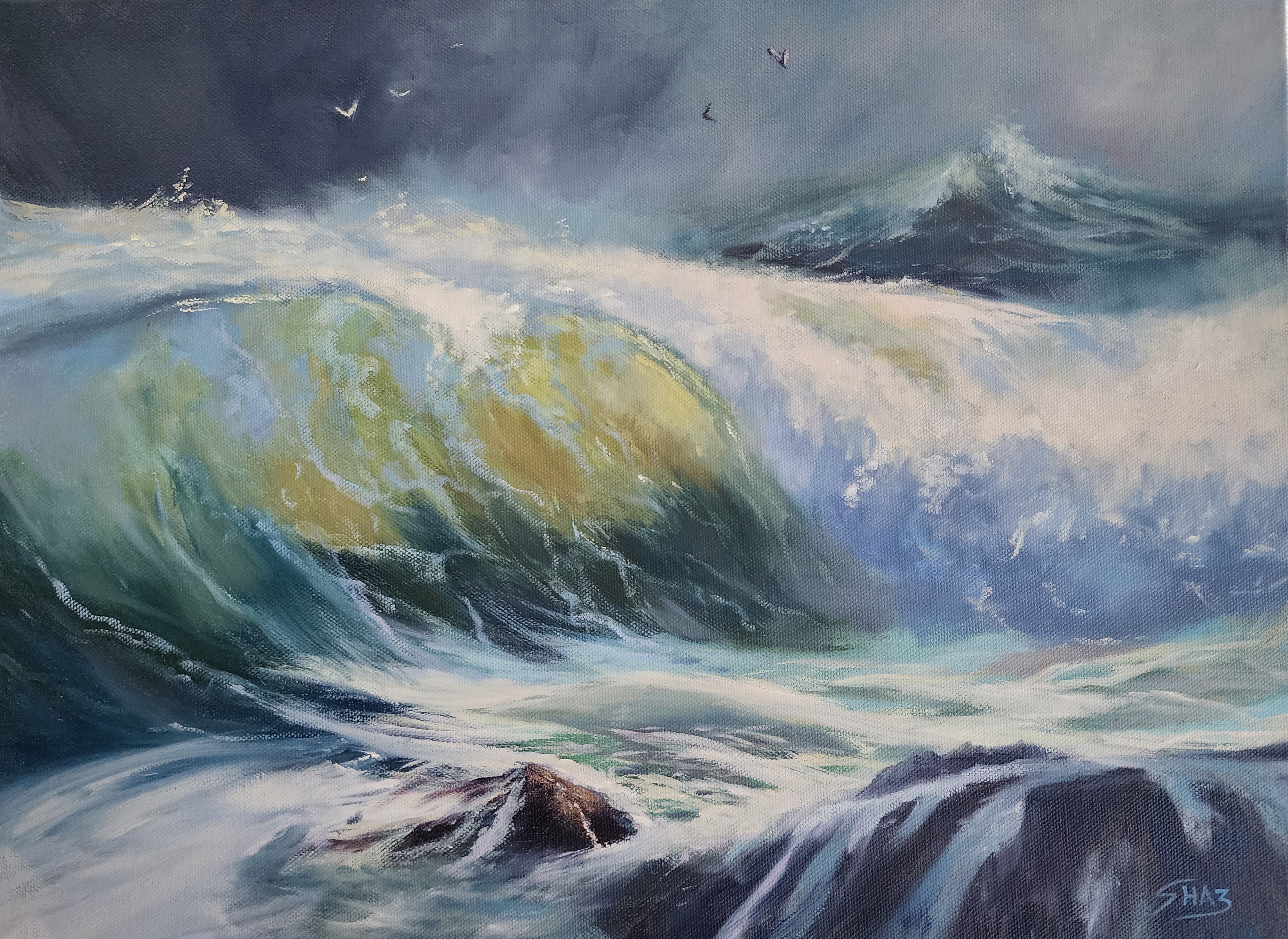 Crashing Waves by Sharon Pearce
Ooh nice work, Sharon. Great sense of movement with interesting brushwork (a good combo of large and small marks). Just 2 things to look at: make the transition more gradual from dark to light, bottom to top within a wave. Also the foam patterns within the wave need to be slightly darker, because they're in the shade. Those two changes will add more depth to the wave.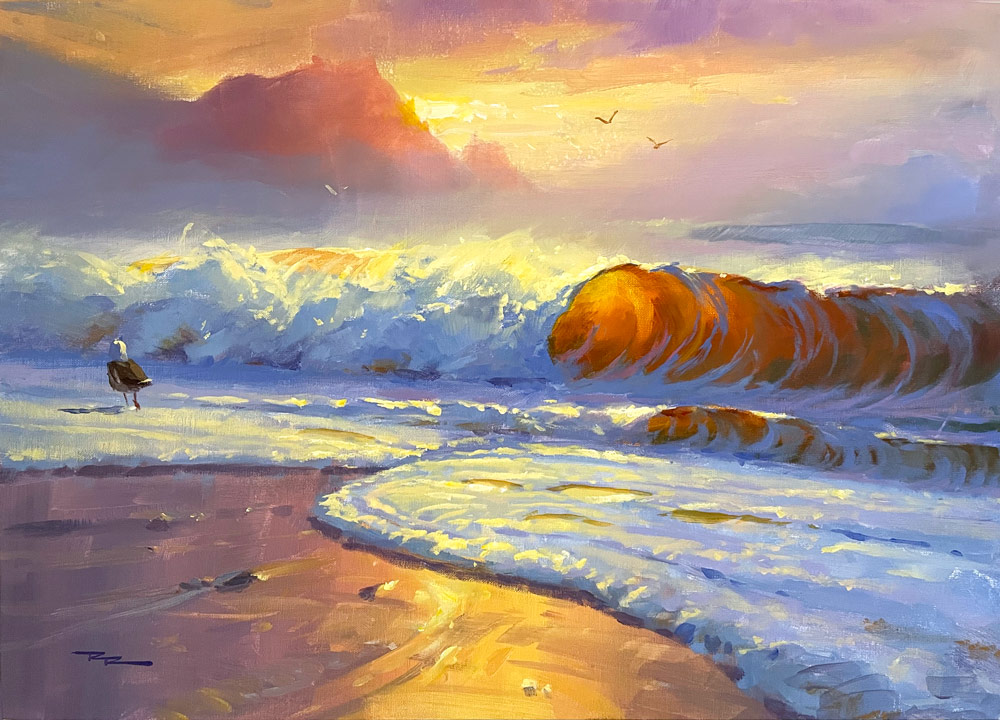 Sunrise Wave demo by Richard Robinson. Acrylic on canvas.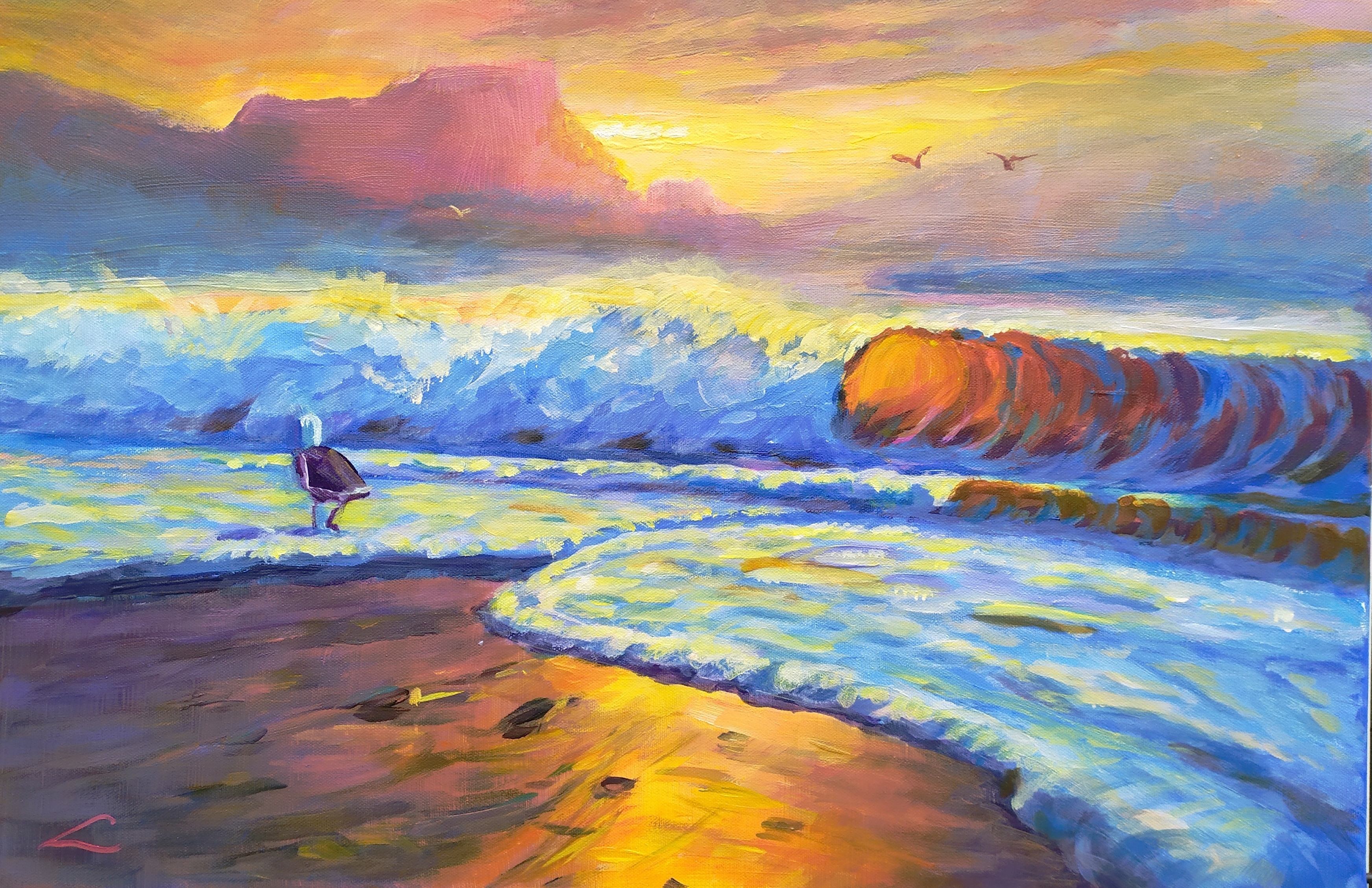 Sunrise wave, acrylic with oil glazing, canvas, 40 cm x 60 cm by Elena Sokolova
Some nice light effects in here, Elena, with a strong warm cool contrast and interesting fluid brushwork. I think this could be improved by taking more care with a finer brush in the foam patterns on the wave face and also revisiting the mountain which seems too pink for the colour of the light. It would be more convincing were it more orange.
I've also found that, with acrylics, painting a large warm gradient first across the whole sky, letting it dry and then working those same colours over the top will avoid that scratchy look you can see in the thin pink paint there where the white of the canvas starts to show through the thin paint. Overall very nice though.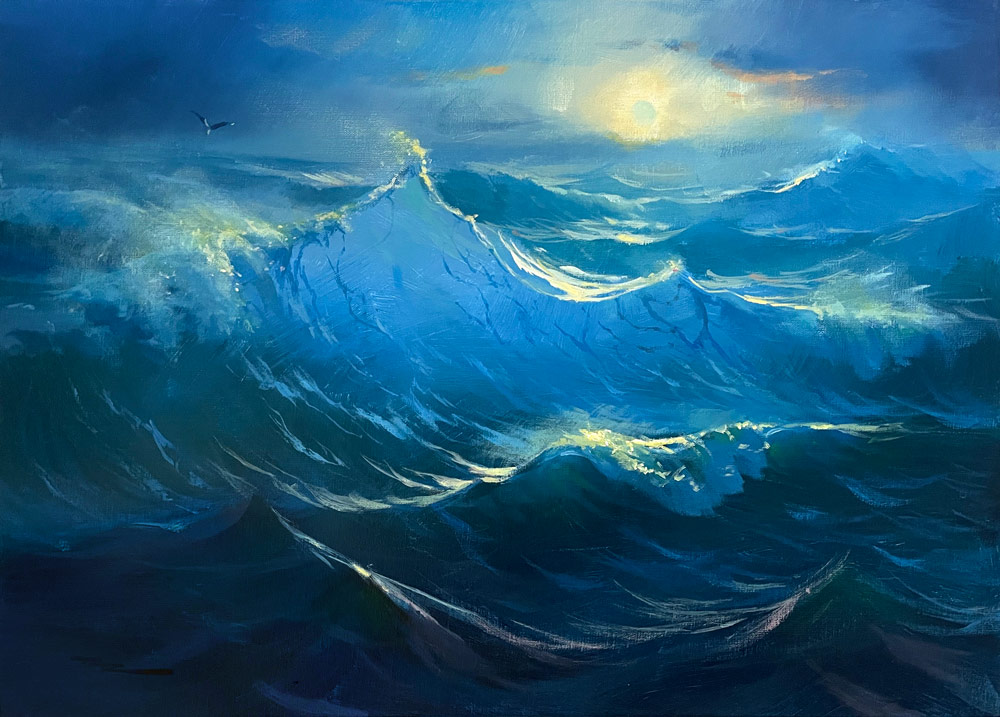 Ocean Storm demo by Richard Robinson. Acrylic on canvas.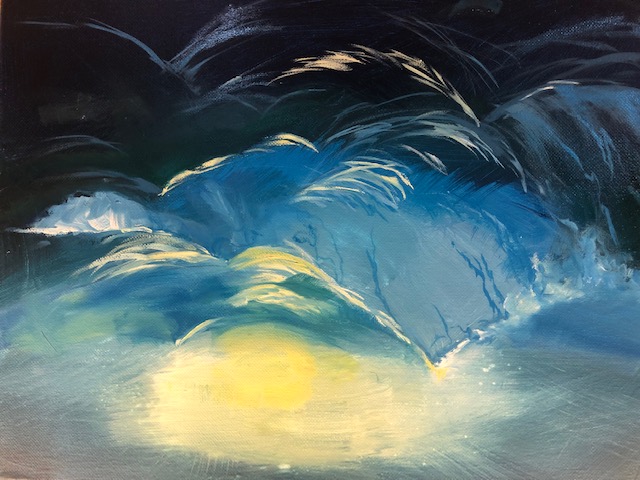 Ocean Storm Acrylic and Oil by Nancy Newton
Nice work Nancy! Getting those swishy wave shapes looking good, large and small. Interesting how it also resembles a mountain range too eh? I'd just like to see a little more green in the tips of the foreground waves so it's not so black, and smooth out that dark to light transition from base to crest in the central main waves. Looks great!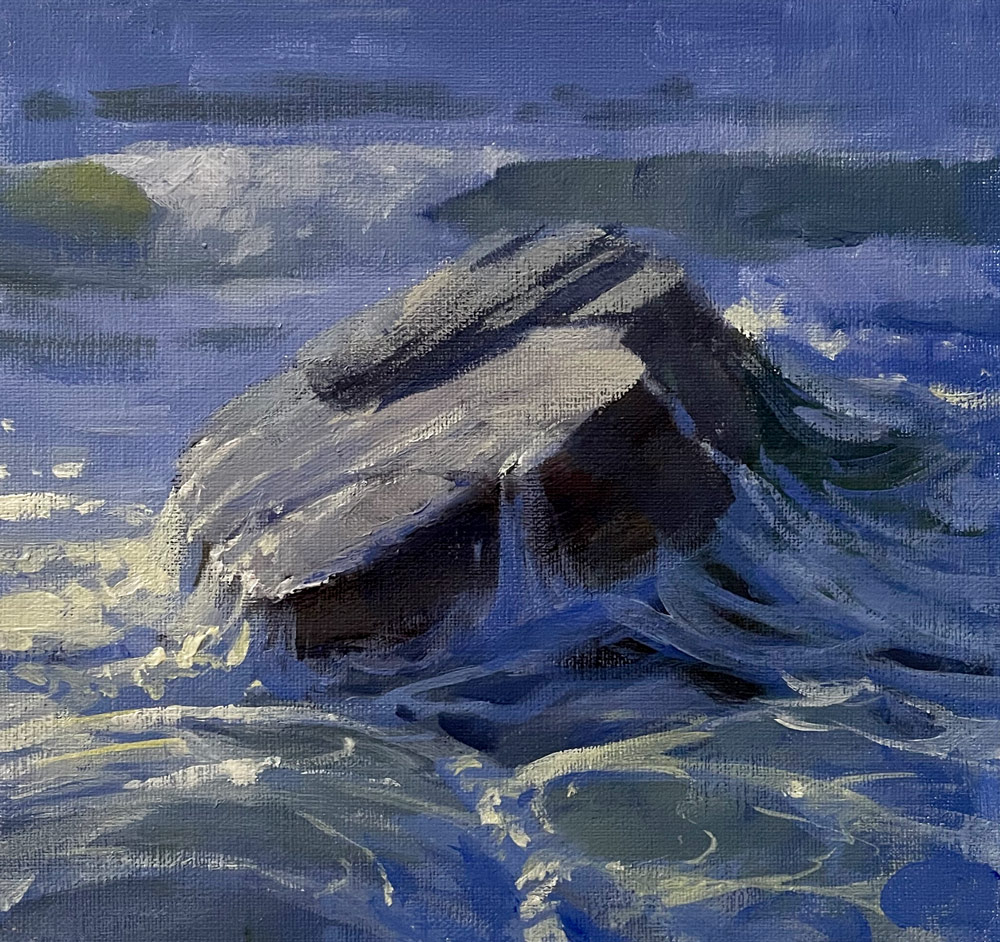 Rock Demo by Richard Robinson. Acrylic on canvas.
Sea rock, oil, canvas, 30 cm x 30 cm by Elena Sokolova
Solid work Elena. Again you've pushed the warm/cool contrast between the light and dark for a more dynamic look. Nice!
LEARN TO PAINT WAVES FROM ZERO TO HERO.
Over 9 hours of online lessons.
The ocean is such an alluring subject for painters, but to paint it well there's a LOT to know - not just the concepts, but also the techniques. That's what you'll learn here, in spades.
You can spend years tracking down all this knowledge, or take the fast track and learn it all in one place. With this detailed guided course you can learn to paint beautiful waves, fast.
Who is this course designed for?
ALL skill levels from beginner to advanced.
Oils or Acrylics.
Learn About
The 4 step process to painting any wave.
Specific brush techniques for beautiful effects.
How to design a successful wave painting.
How to invent rocks and place them properly.
Create colour schemes that just work.
and MUCH more.
Get the full course here: https://mypaintingclub.com/lessons/232-Painting-Waves
Thanks to everyone who was part of the monthly workshop!
(Monthly workshops are available to all Premium Members - $20/month)