May 9, 2023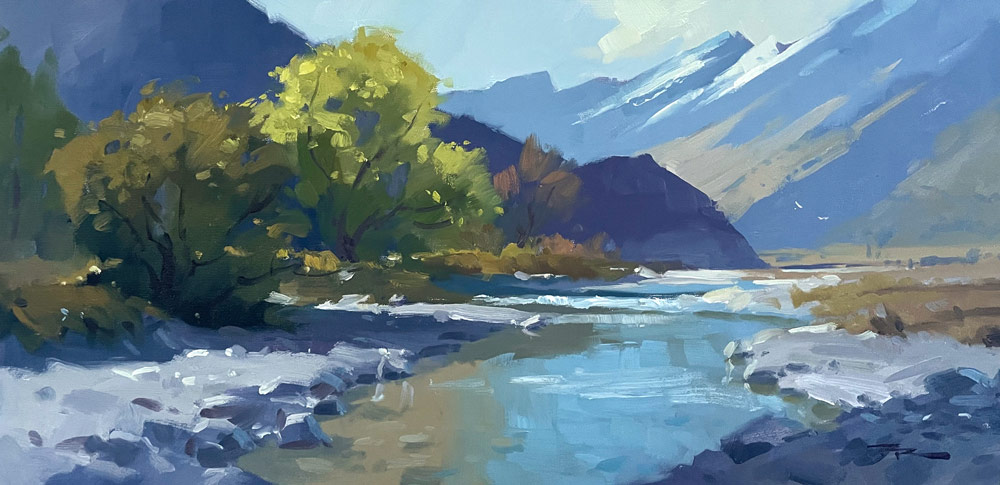 Painting a Mountain River
We (painting buddy Scott Hamill and I) drove for miles through the mountains around Glenorchy, New Zealand, till we reaching a gate we hadn't been through, leading to a riverbed and vista not yet seen. Quickly we setup easels and got to work capturing the idylic scene, finishing a few hours later with a quick swim in the nippy river and a muesli bar to see us back to the café in the village. Mission accomplished!
What I focused on most in this painting was being sure of my big light and dark shapes. Sure to make them interesting, organic and dynamic, NOT similar, man-made and boring.
When you come to a new scene that's awe inspiring like this one, almost ready for a frame just as it is, it's easy to be trapped by the thought that you shouldn't change a thing because it's all so perfect.
Listen to that and suddenly you're kicked off the conductor's podium and you're just playing the music someone else wrote. Yes there's joy in that but there's more to be had in creating something more personal.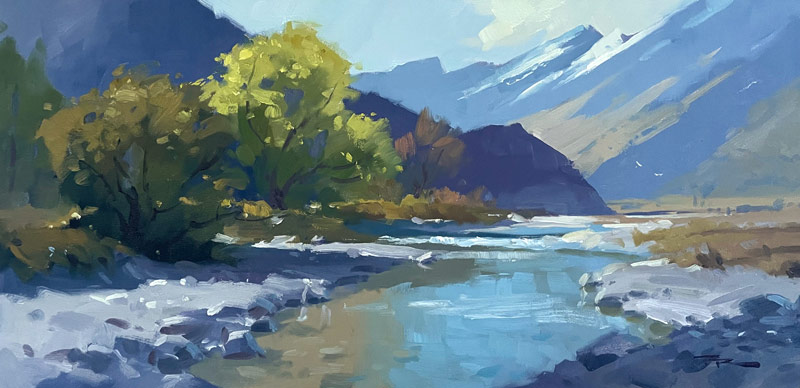 "The Rees River, New Zealand" 13x27" Oil on Canvas by Richard Robinson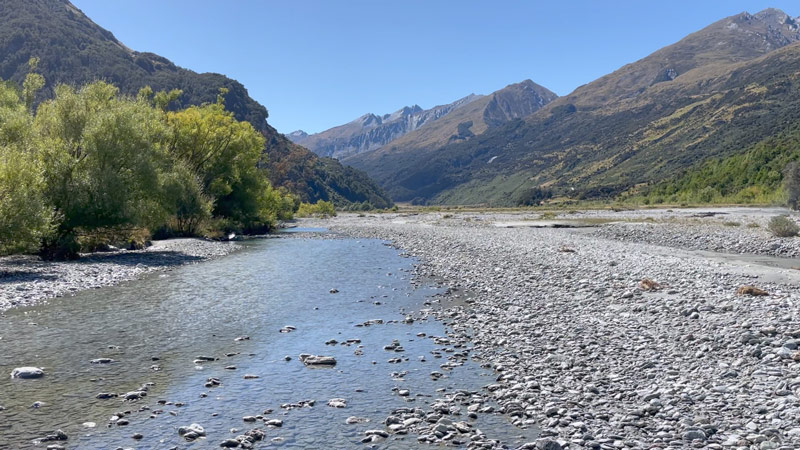 The Rees River, New Zealand
What materials are used in this class?
M. Graham & Co. Oil Paints
Alizarine Crimson
Phthalo Blue
Ultramarine Blue
Burnt Sienna
Cadmium Red
Cadmium Orange
Yellow Ochre
Cadmium Yellow Light
Titanium White
Painting medium
M. Graham & Co. Walnut Alkyd Medium or Walnut Oil
Solvent
Gamsol
Canvas
Fredrix ultrasmooth canvas.
You could use a canvas panel or anything you prefer.
Brushes
Rosemary & Co. Richard Robinson Brush Set
Palette knife
Paper towels



Student Critiques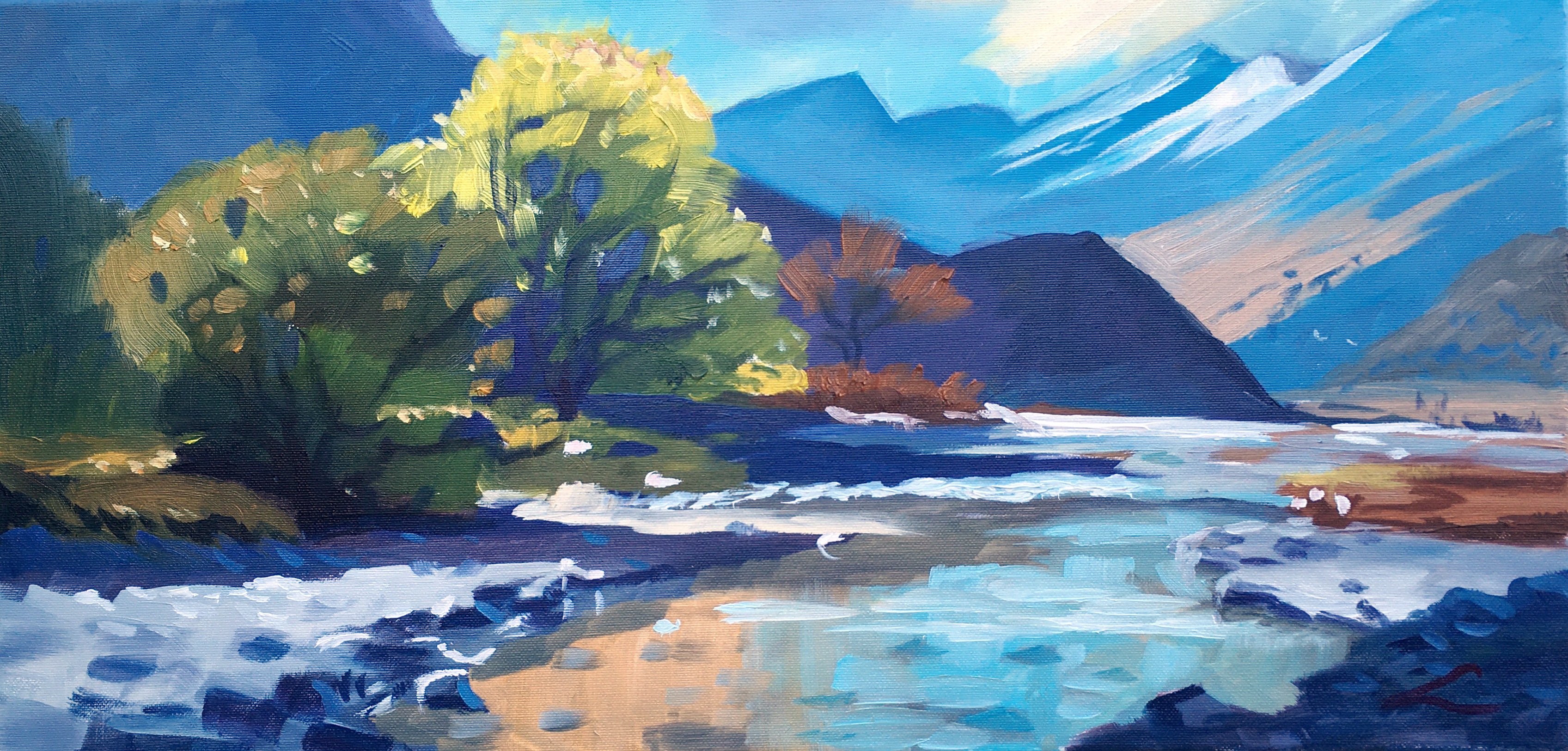 Mountain river, oil, canvas, 30cm x 60cm by Elena Sokolova
Elena, you're always first here with a strong vibrant painting! Great job, and thanks for being part of the club for such a long time. Much appreciated!
Love the brushwork and the energy here. My only suggestion for this one would be to look again at the orange colour you've used in the reflection of the tree in the water. That's not quite sitting right. I'd expect that to be a little greyer/green. Beautiful!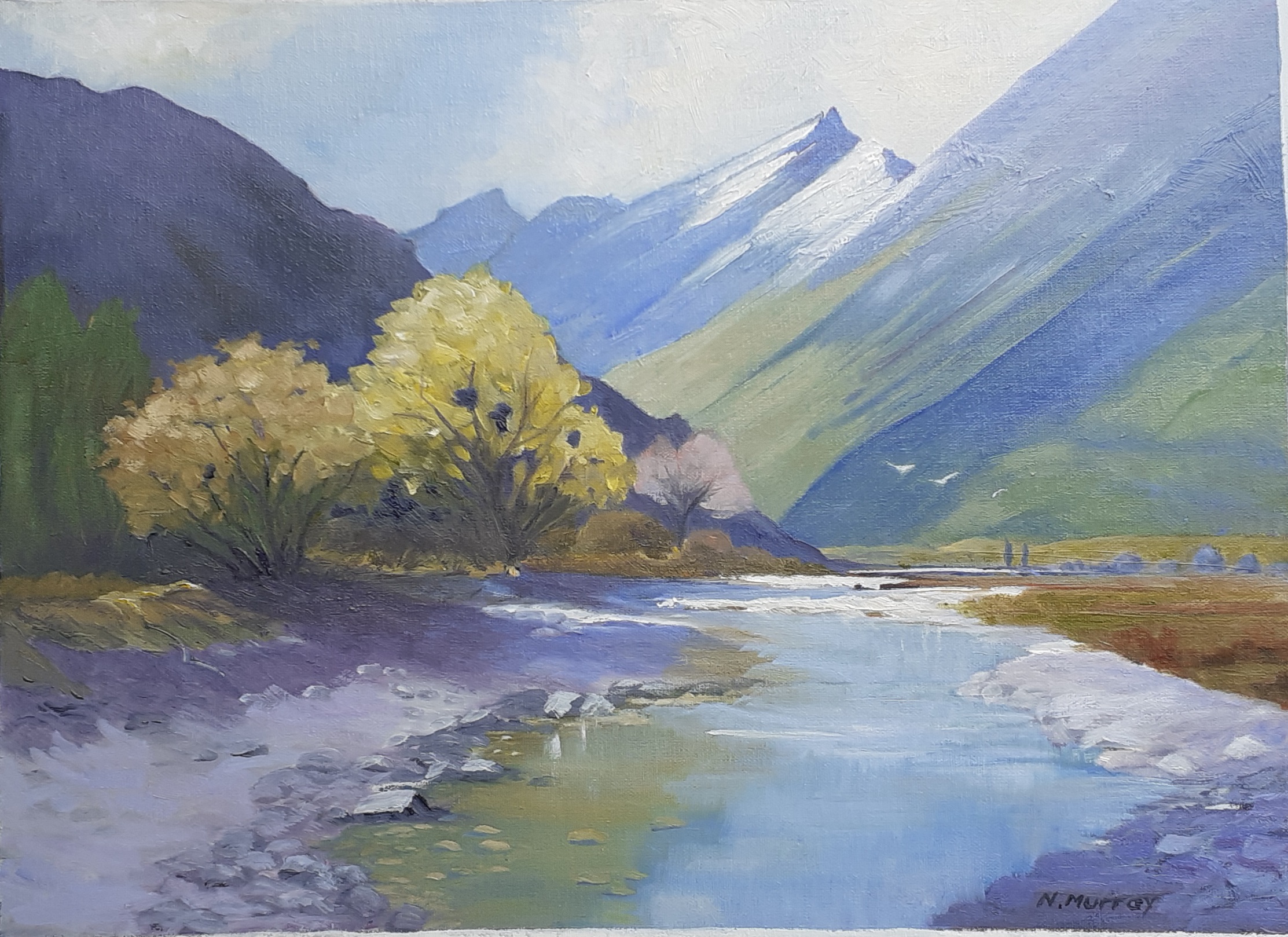 Mountain River in Oils by Nancy Murray
Nice one Nancy! There's a real softness to this one that's giving me a peaceful feeling. Having the more vertical canvas also adds to the feeling of space and freedom.
Just two things I can see that could do with a tweak. The first is the dark splotches in the tree need to be lightened off a little because they're really popping out.
The second is the trimmed straight edge of the brown grasses on the right could do with someone leaving their edge cutter at home when they go hiking in the mountains. Just roughen that up a bit.
Gorgeous!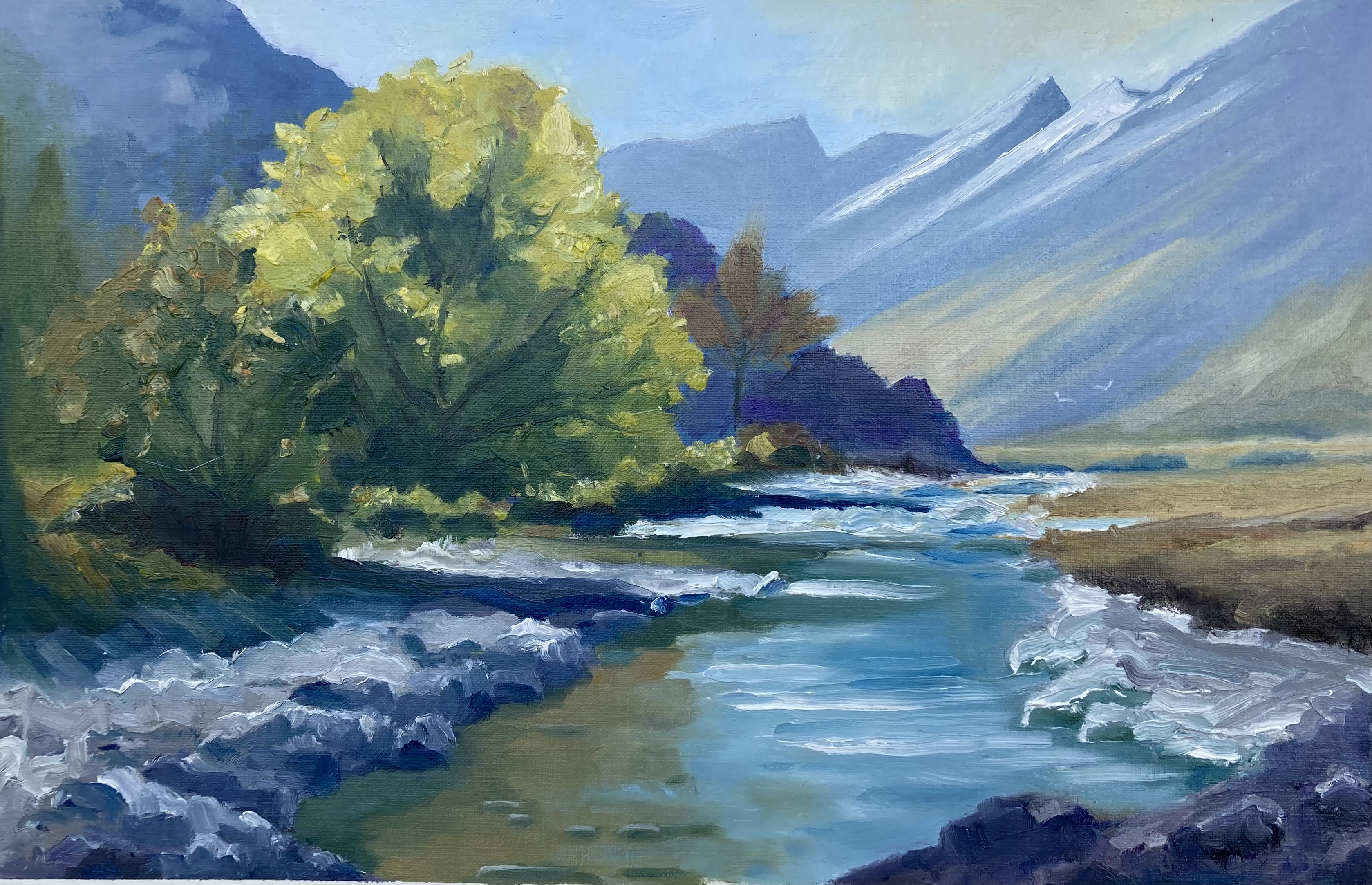 Mountain River in Oils by Geoffrey Geeson
Great subtle work in here Geoffrey. Really nice. The only small thing I'd like to change is the foreground tree to be a little stronger where it overlaps the second tree so that there's a clearer separation of forms there. Its light shape got a little lost.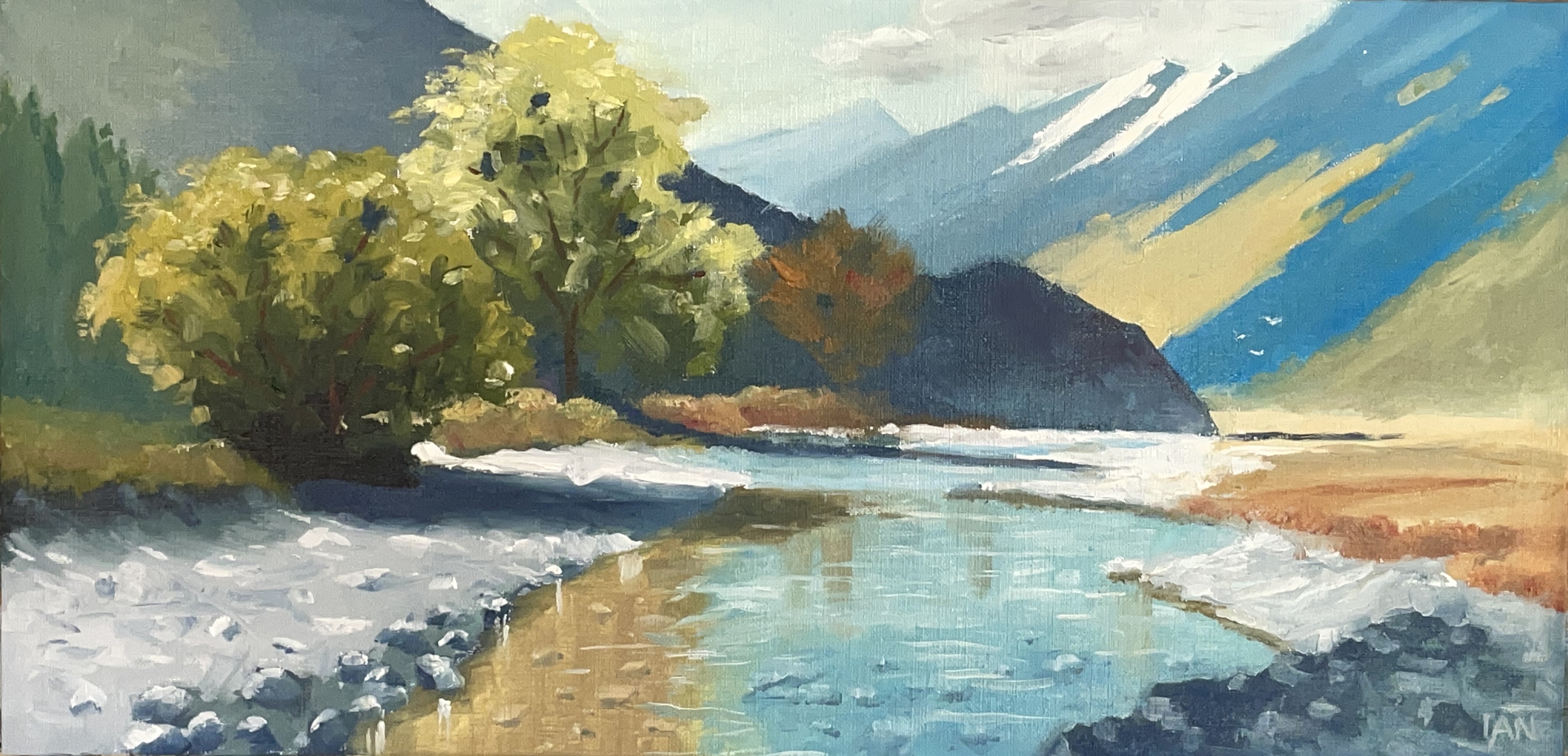 Placid Stream, Mighty Mountains by Ian States
Artist: Ian States
Gidday Ian, thanks for adding your painting. Really good work here. The drawing is accurate, colours are vibrant, brushwork has interest and variety. You did a great job of layering the receding mountains.
Just two colour suggestions for you. The tan sunlit slope on the distant mountains would recede better if it had a little more grey blue in it. Presently it's competing with the trees.
Similarly the orange in the water on the left could be greyed down a little. Other than that, perfect!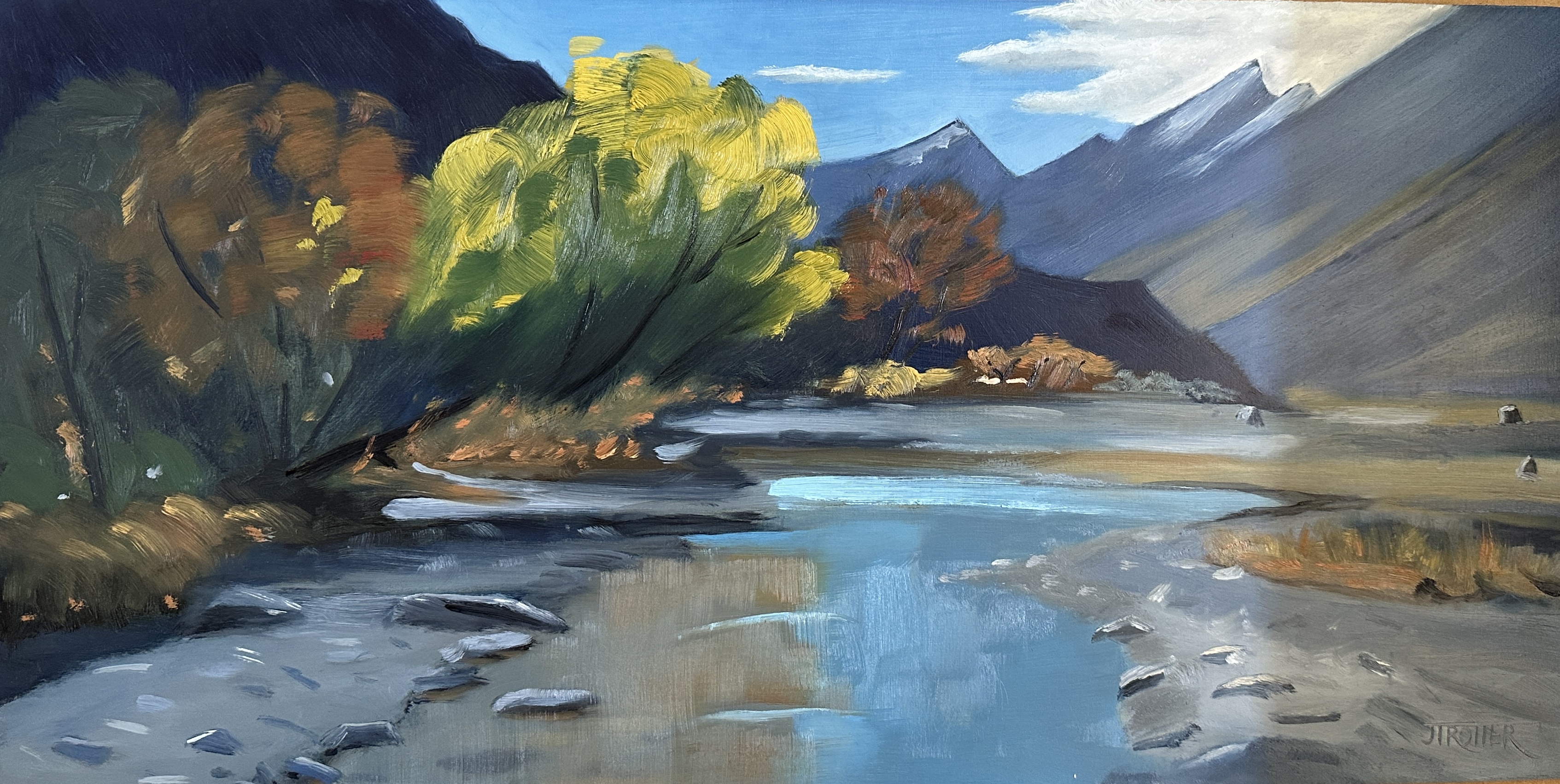 Rees Valley, by Jay Trotter, oil on board, 12x24",
Hi Jay, good painting! Bold brushwork with an interesting variety of texture. Colour's are quite punchy. I'd like to see the black removed from the shadows in the light green tree as it's killing the feeling of light penetrating the leaves. A dark grey green will give you that effect.
Interesting how you the darkened hill behind makes the colours pop more in the trees. That's comes at the expense of a little less depth, in terms of how far that hill appears from the viewer, but everything's a trade off. One of my favorite New Zealand artists who painted this area, Douglas Badcock, was a proponent of using strong darks in the background like that to deliver very dramatic, punchy paintings.
If you add a few more little bumps to the edges of your mountains they'll look more realistic. Unless you're happy with that level of stylisation of course.
Good job.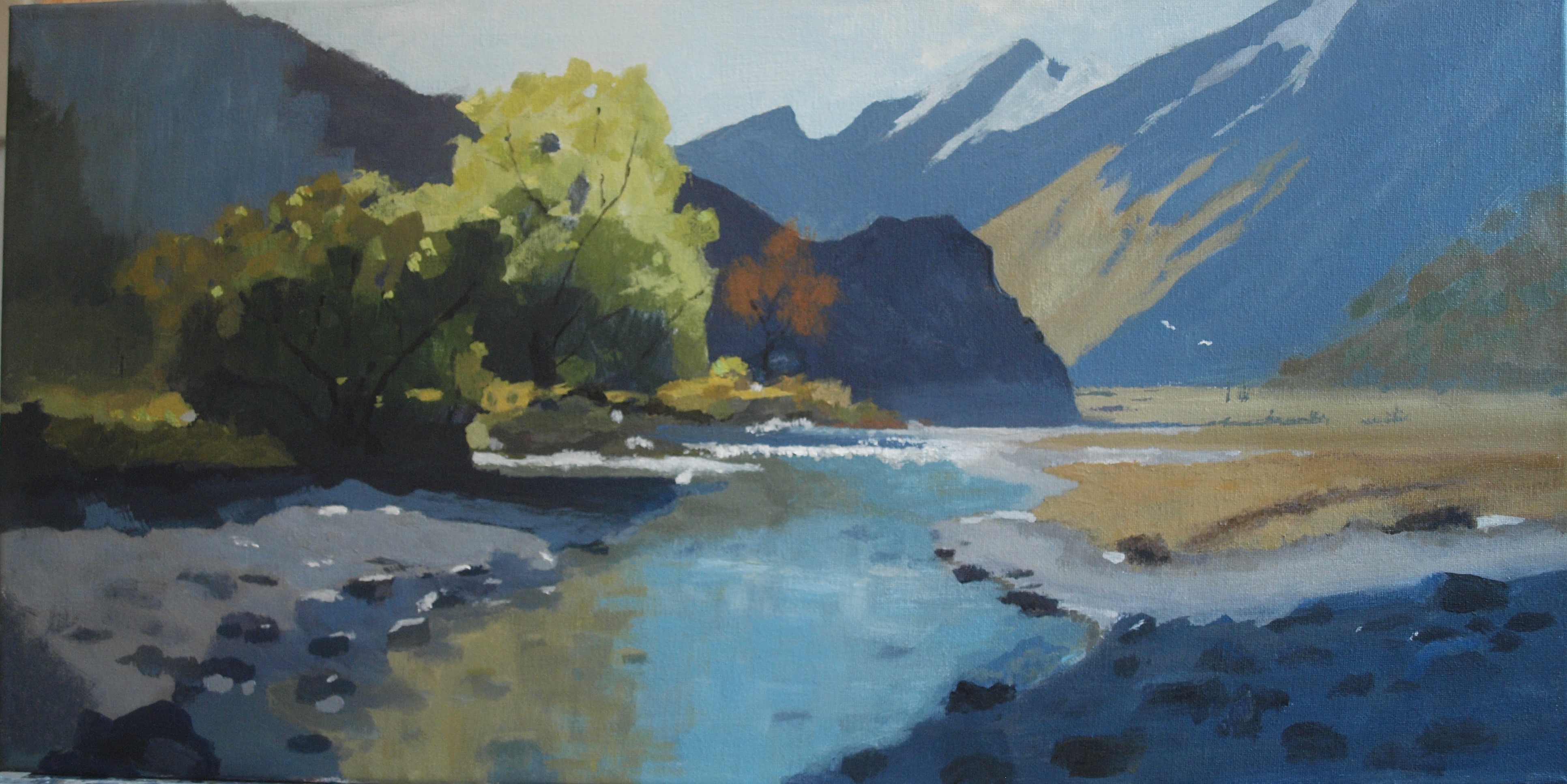 Mountain River by Peter Eckel
Great work Peter. That's a solid copy. Everything's looking good. I'd just tweak the rocks on the left - make one or two of them bigger and make sure the spaces between them are random. Joining darks together works well to avoid pattern making.
Paint this gorgeous mountain scene with broad brushwork.
Follow me one brushstroke at a time as I take you through the full process of creating this expressive painting of the Rees Valley River in New Zealand. Learn how to design around a central idea and discover the power of a simple palette and a painterly approach.
Good design, colour mixing, passionate brushwork and a variety of powerful ideas and techniques are demonstrated in the video. Enjoy!
Who is this course designed for?
ALL skill levels from beginner to advanced.
Oils or Acrylics.
Learn About
Designing a painting
Painting receding mountains
Painting snow in light and shade
Adding crisp finishing details
and much more!


Get the full course here:
https://mypaintingclub.com/lessons/234-Mountain-River
Thanks to everyone who was part of the monthly workshop!
(Monthly workshops are available to all Premium Members - $20/month)