July 13, 2023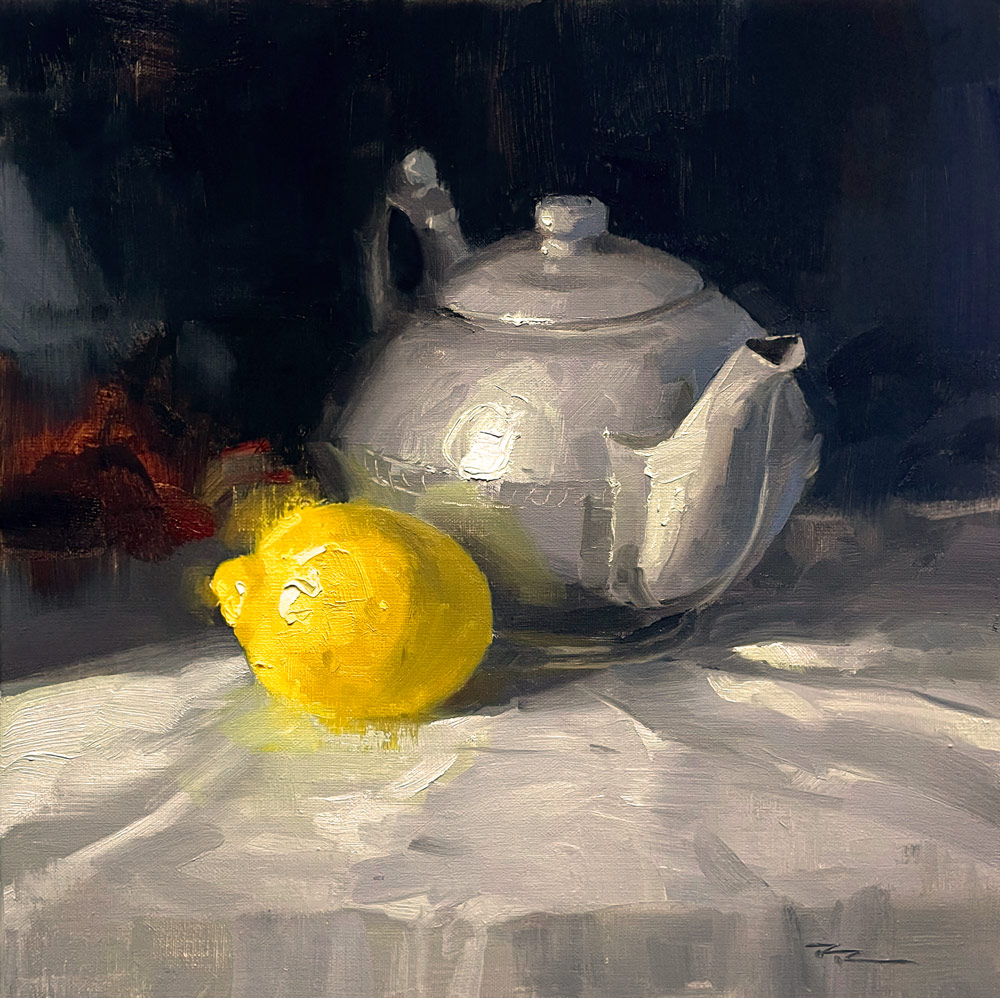 Painting a still life is a great way to get to know your materials and just have fun with paint because it's not a very demanding subject matter, not like landscapes, especially not like painting outside where the light and weather change at a moments notice.
You can really have fun with your materials, spend some quality time with your paintbrushes in that creative space and simply see and paint, see and paint, taking your time and enjoying the process.
Simplicity doesn't equate to dullness. It's an opportunity to infuse our work with a sense of elegance and harmony. A humble teapot, bathed in single light, becomes a study in tranquility and stillness. We can explore all it's nuances and subtleties, inviting viewers to pause and savor the moment with us.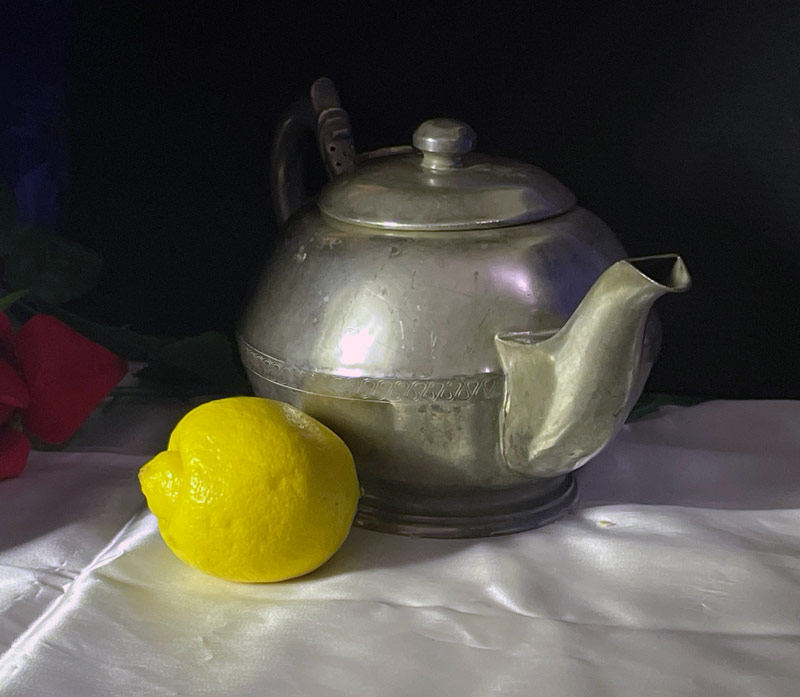 Resource Photo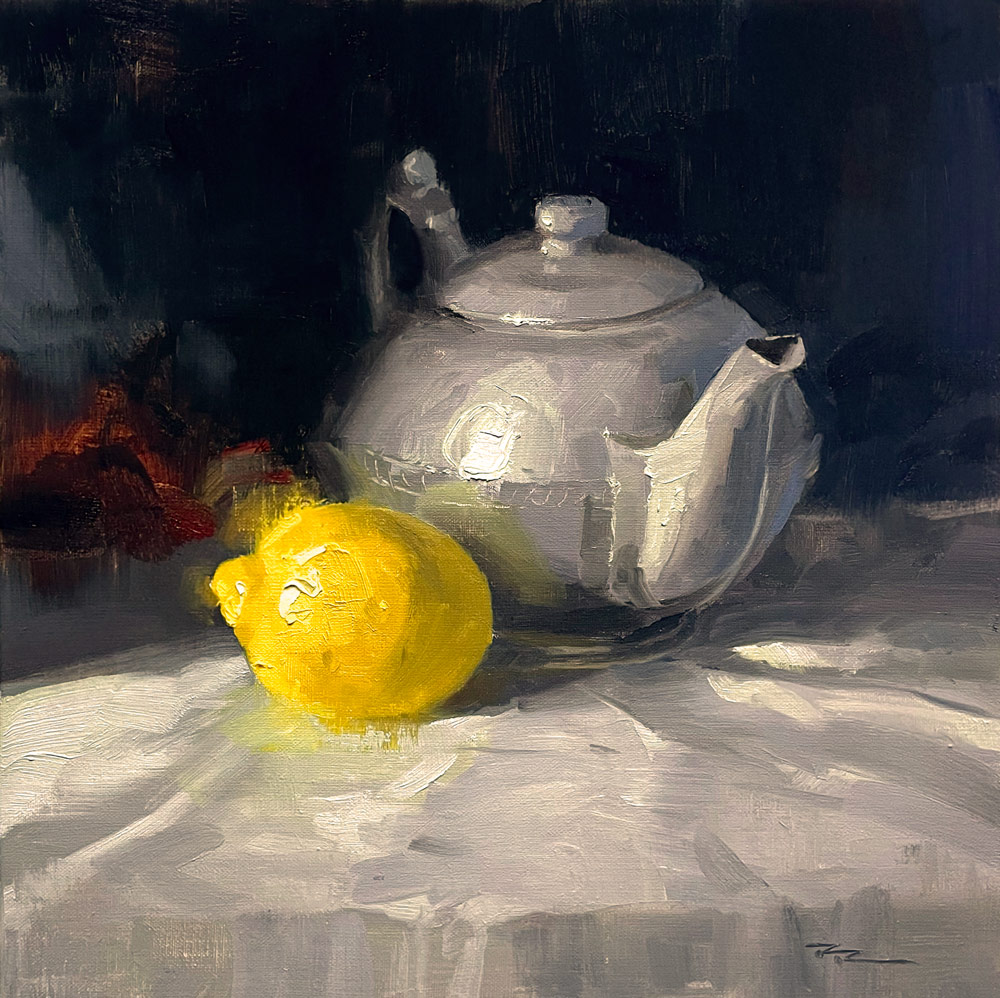 Lemon Tea 12x12" Oil on Canvas by Richard Robinson
Take your time choosing objects, getting the best placement, viewing angles, environment and lighting to bring the best out of your simple subject.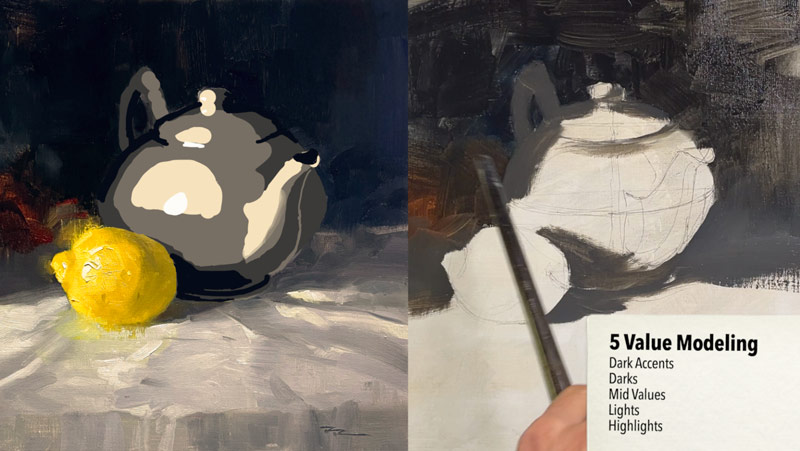 Try to build your objects with just 5 values for a bolder, simpler statement:
Dark Accents, Darks, Mid Values (Mid Tones), Lights, Highlights.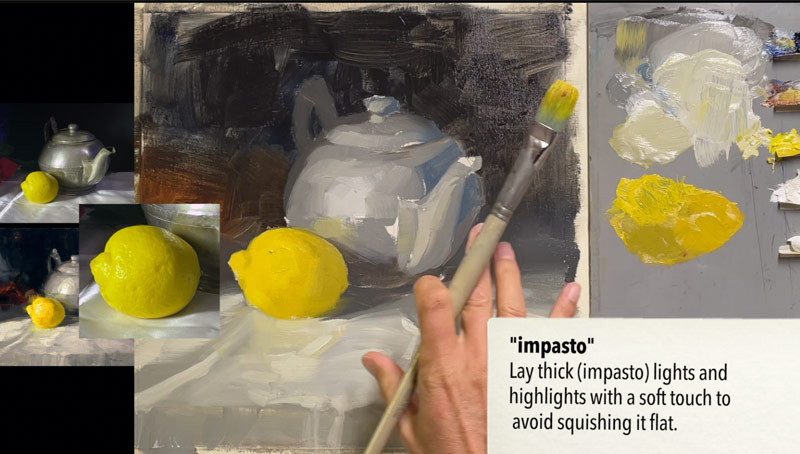 Save your thickest 'impasto' brushwork for the lights and highlights. Let those darks stay flat, thin and mysterious.
What materials are used in this class?
M. Graham & Co. Oil Paints
Ultramarine Blue
Burnt Sienna
Cadmium Yellow Light
Titanium White
Painting medium
M. Graham & Co. Walnut Alkyd Medium or Walnut Oil
Solvent
Gamsol
Canvas
Fredrix ultrasmooth canvas.
You could use a canvas panel or anything you prefer.
Brushes
Rosemary & Co. Richard Robinson Brush Set
Palette knife
Paper towels
Get the video lesson: https://mypaintingclub.com/lessons/237-Painting-the-Still-Life-in-Oils
Student Critiques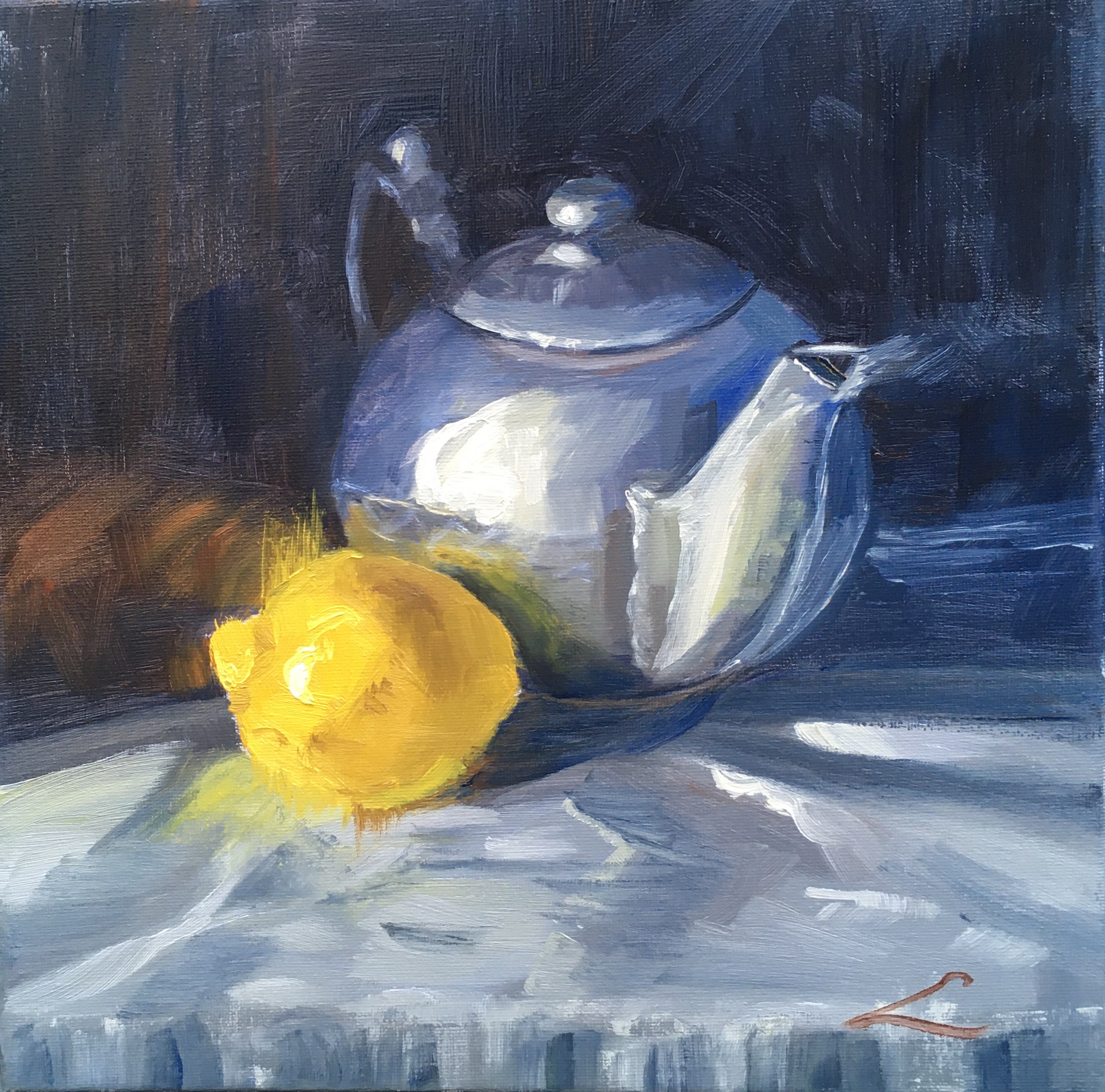 Lemon tea, oil, canvas, 30 cm x 30 cm
Artist: Elena Sokolova
Beautiful work Elena - great brushwork, colour, tonal modelling and I like your addition of the steam coming out of the teapot. Nice. The drawing is pretty accurate too, except for those tricky ellipses that we build the teapot with. They could be a little better. Very tricky, I know - mine are far from perfect too. It's worth having a really close look at those and seeing how they curve steeply right at their very ends. Other than that, all good!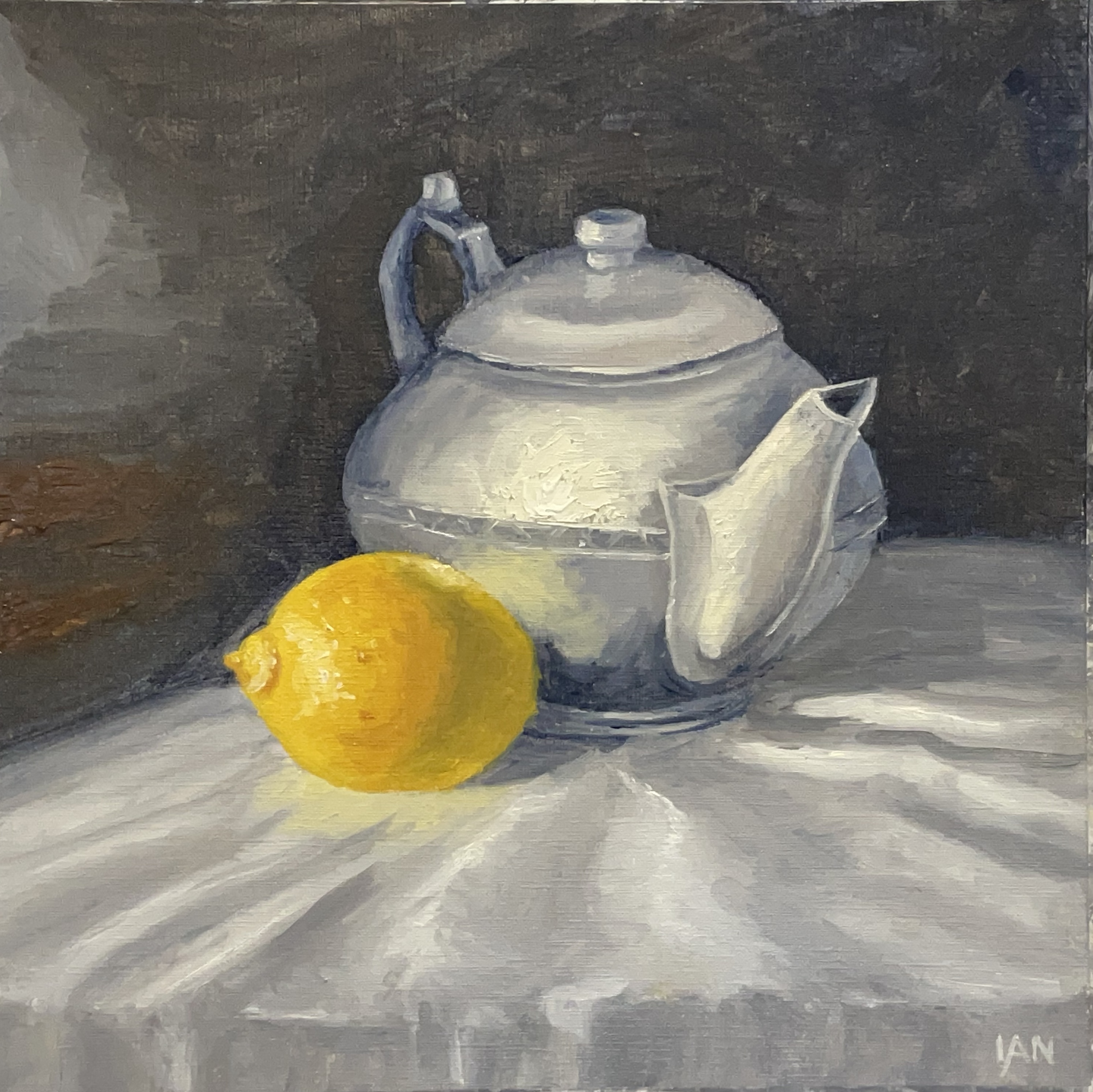 "Still life - my first try at this genre "
Artist: Ian States
Nice one, Ian. Love the brushwork - especially the impasto stuff in the highlights. That lemon is beautifully modelled too - great job there. Drawing is pretty decent - just a bit wonky on those ellipses. Would've liked to have seen the teapot merge a little with the background in the darks to avoid that cut-out look. Looks like the darks in the teapot could go a little darker overall to give it more roundness. Brushwork was the winner on the day. Beautiful!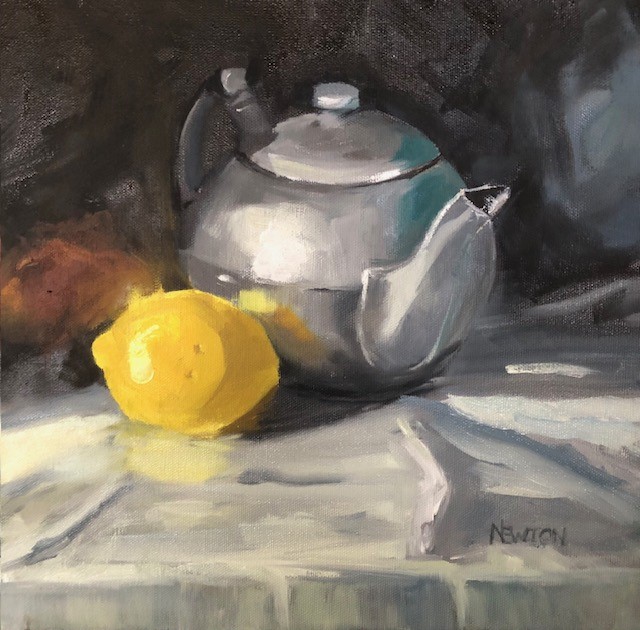 "Still life with Lemon oil on canvas"
Artist: Nancy Newton
Hey Nancy, this is looking fantastic. Love the broad fluid brushwork and confident modelling of the separate plains. The drawing is very good. Would just like to see that middle-most fold on the cloth make it all the way to the edge and fold over it, as it seems to end abruptly for no good reason and makes me think it's perhaps a bendy straw left on the table, or something else other than a fold. Great work!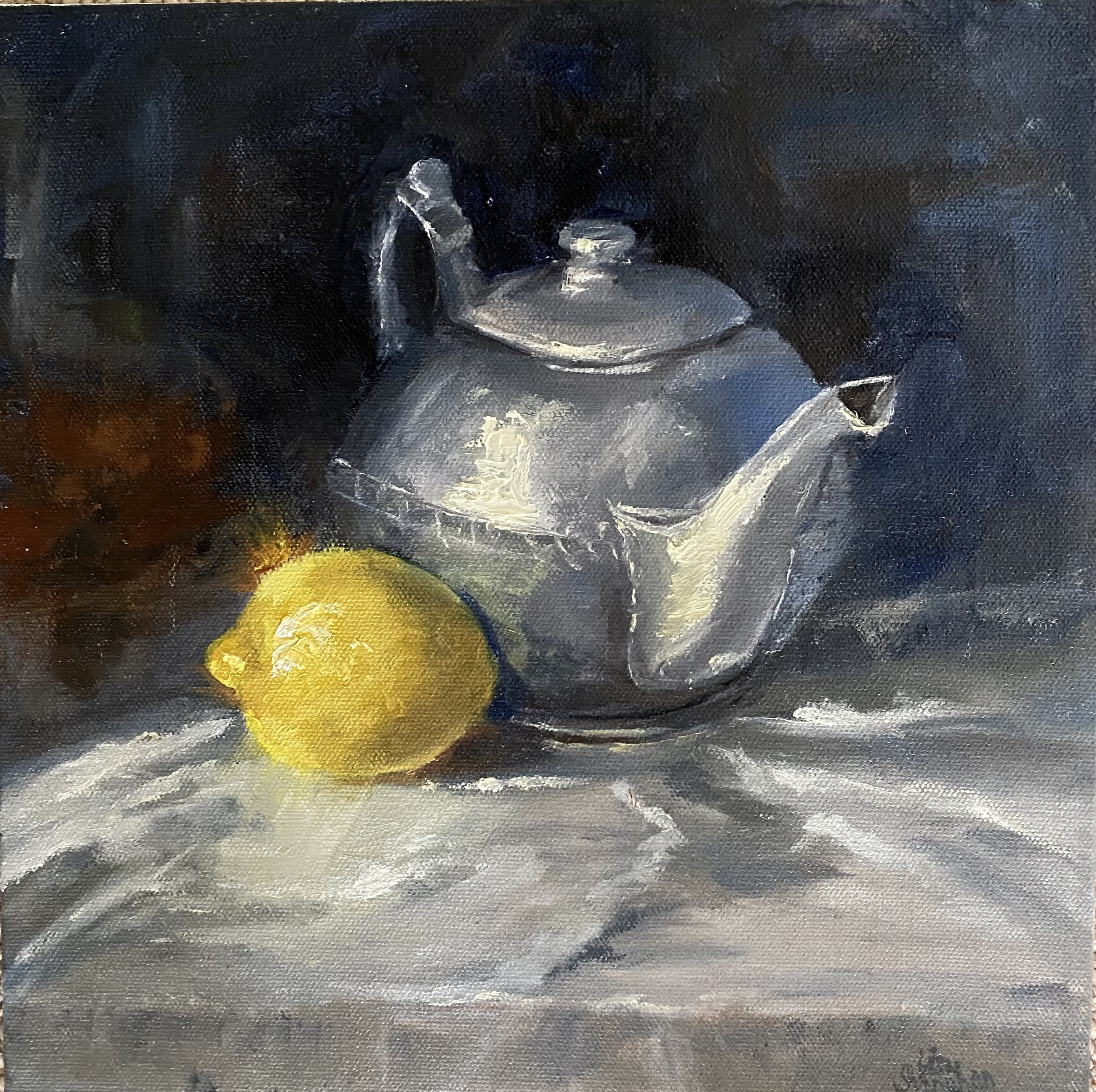 "Still Life, Tea with Lemon"
Artist: Lisa Shanahan
Ooh nicely done Lisa! You've really captured the shiny metal and lemon texture. The cloth folds are not quite as convincingly rendered, but overall a lovely effect. Your middle ellipse went a little straight on the left, but that's easily fixed. Looks great!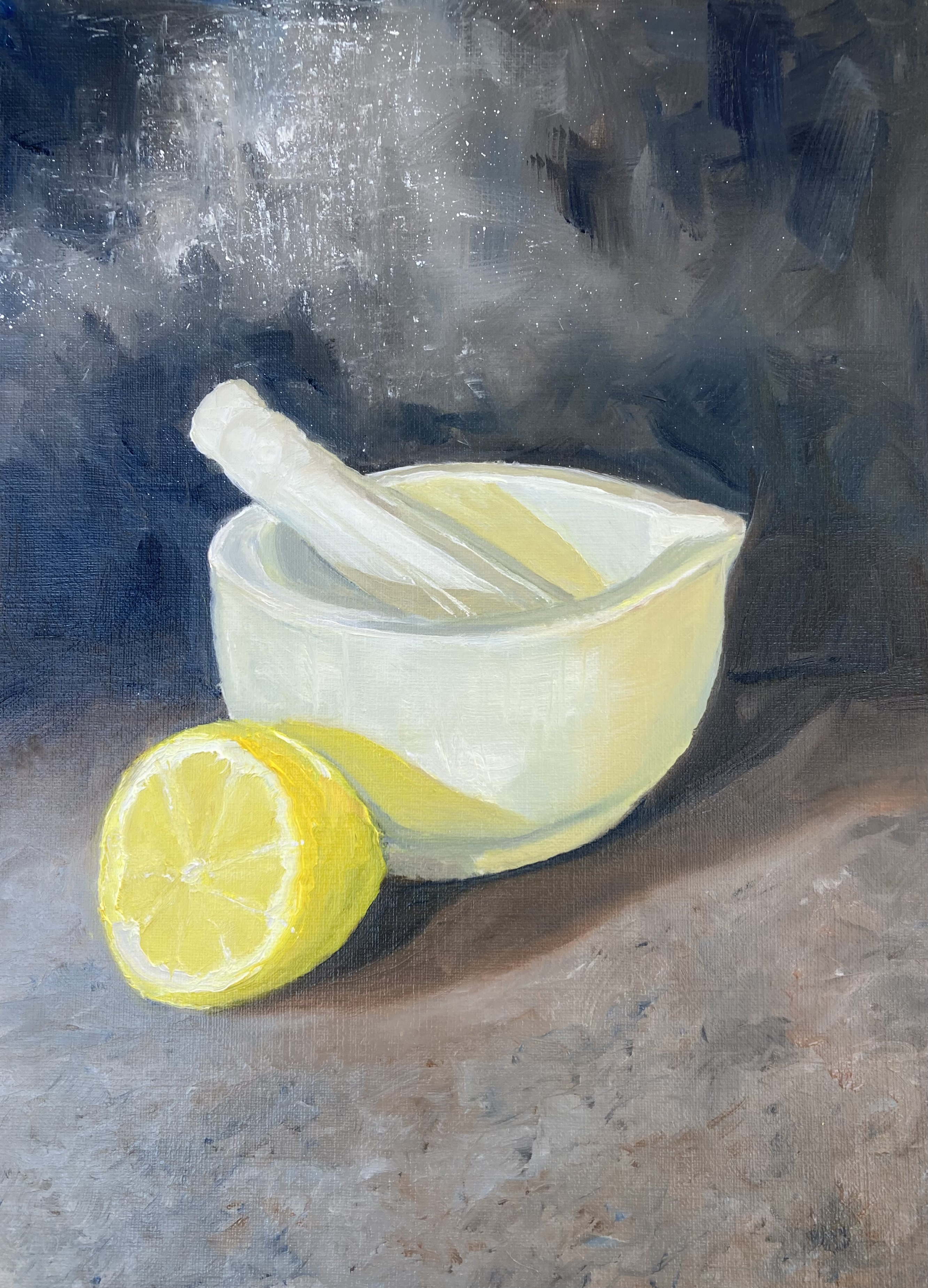 "Bench Top Still Life in Oils"
Artist: Geoffrey Geeson
Good work Geoffrey, great attention to detail and subtle shifts in colour. Pretty decent drawing, but paying attention to symmetry around centre lines will help you be more accurate. Looks to me like the shadow sides of your objects are a bit too light, which on the one hand gives a nice glowing appearance, but on the other tends to flatten the 3D form. It's easy enough to check this by editing the photo of your painting on your phone and increasing the darks or the contrast to see what a difference that makes and if you might prefer it. Good job.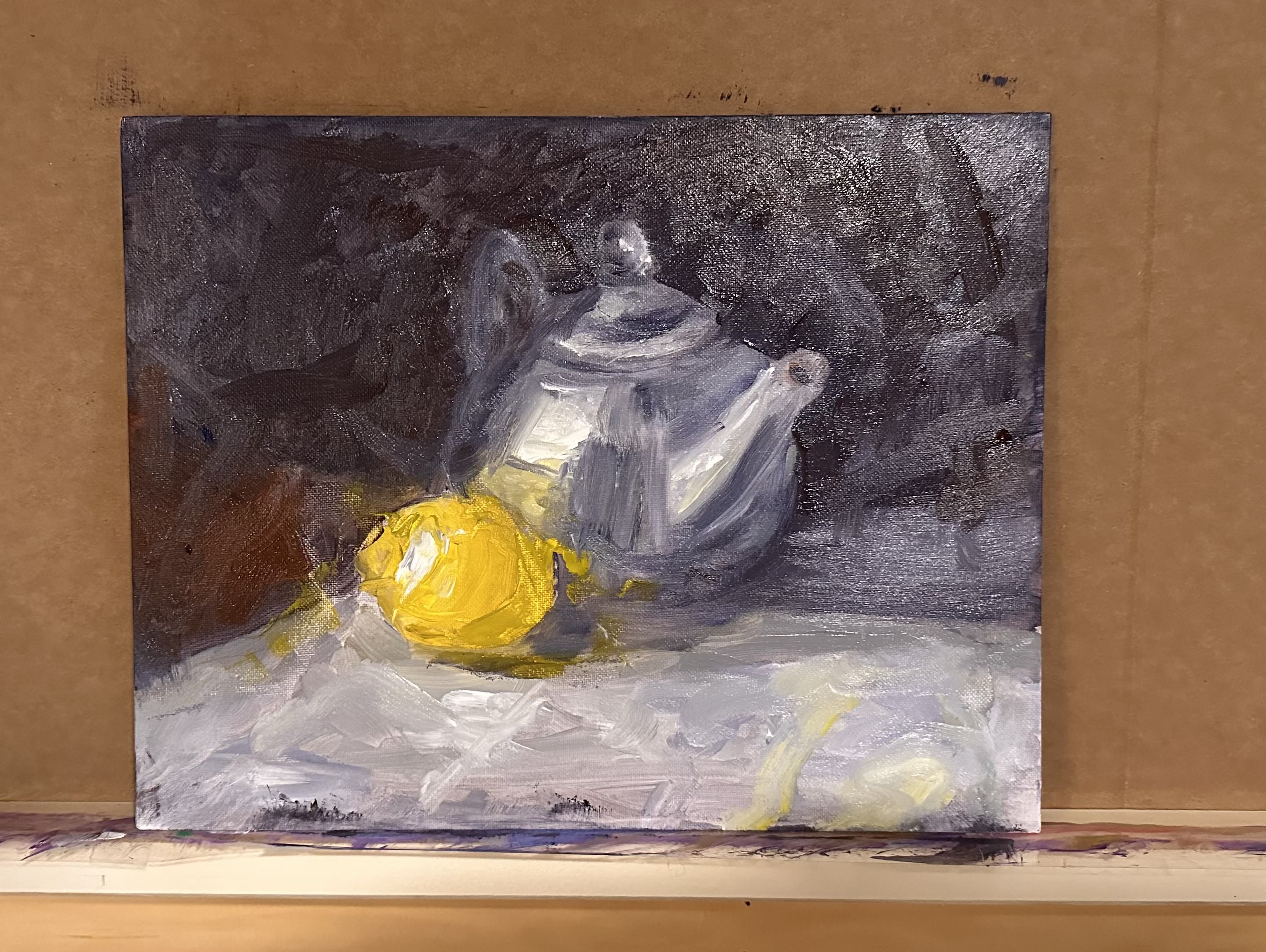 "lemon and the pot"
Artist: Magdalena Lipinska
Hi Magdalena, it sure is difficult to photograph dark paintings without reflection on them, right!? I had the same problem and ended up photoshopping it to get it right.
So, I'm loving the gestural paintwork here, the looseness of the whole thing. I especially love how the lemon came out.
Personally I'd like to see a little more care taken with some key parts of the teapot like the end of the spout and the area around the main highlight. That's just a matter of switching gears a little, slowing down and perhaps using a finer brush - not necessarily smaller, but with a crisp end on it. Aside from that, beautiful painterly work!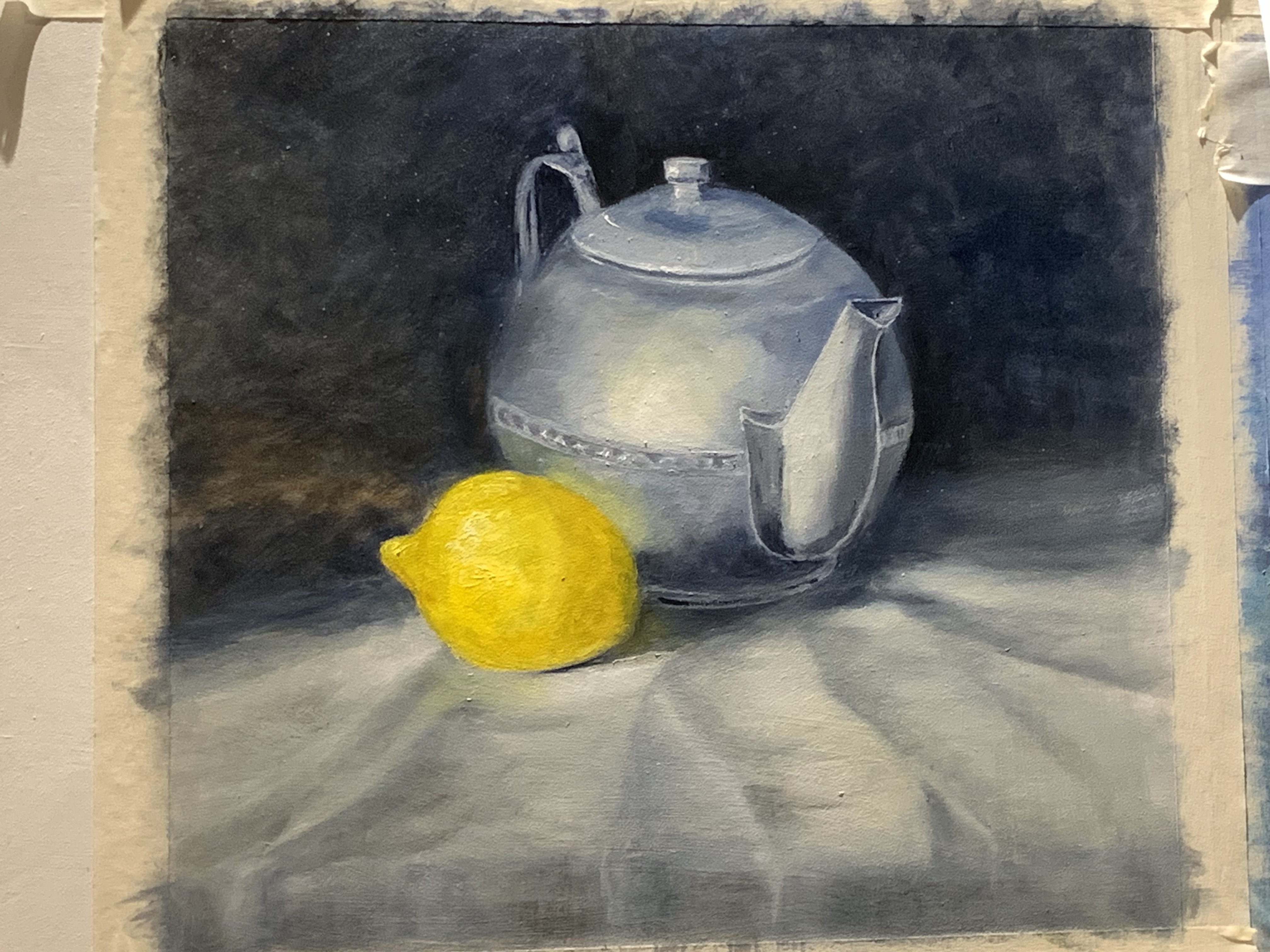 "Lemon tea , 13x 12" "
Artist: Mark Price
Hey Mark, great to see you taking the time to really knuckle down and assess what you're seeing in the forms here. It's a brain workout for sure. Some really nice modelling there in the teapot and cloth.
Your lemon could do with darker shadow plains to make it rounder. The button handle on the lid could grow to the right a bit to make it more central and you could try darkening some of the background further to remove the fluffy texture which to me seems to compete a little for attention. Keep up the good work!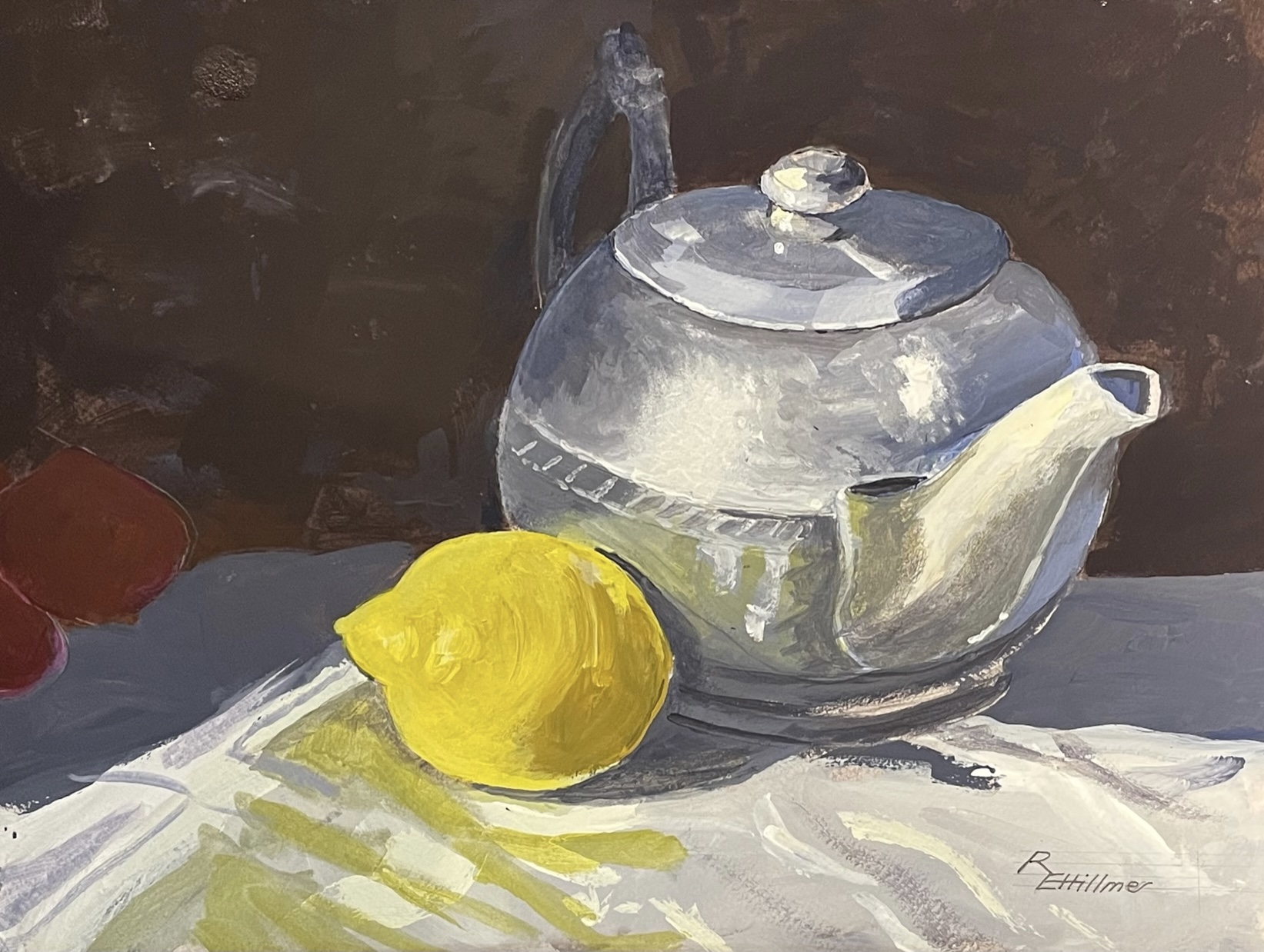 "Lemon Tea" in acrylics, by Eric Hillmer, Toronto, ON, Canada.
Great to see this done in acrylics Eric. Always harder to get that wet-in-wet look but it has its own benefits. The colour and drawing are good overall. The base ellipse of the lid is a little too round. Interesting to see it with a brown background.
The composition is interesting too - feels like they're staying in the light on the right to avoid whatever is lurking over there in the shadows. The lemon is suspicious. :-) The lemon's cast shadow on the teapot is particularly well done and holds the whole painting together.
Some of the highlights within the shadows and halftones of the teapot are not helping to enhance the form - they are actively confusing it. You can keep those for interest, but with less contrast would help. Good job!


How to paint a still life in oils or acrylics, step by step.
There's something sooo nice about settling in to paint a simple still life. Meditative. Refreshing. Calming. Eye opening!

I dug down deep in this lesson and I'm pretty sure there's at least 5 useful tips in here you didn't know you didn't know.

Ooooh, learning new stuff! Nooiiice.
Who is this course designed for?
ALL skill levels from beginner to advanced.
Oils or Acrylics.
Choosing objects, and getting the best placement, viewing angles, environment and lighting to bring the best out of a simple subject.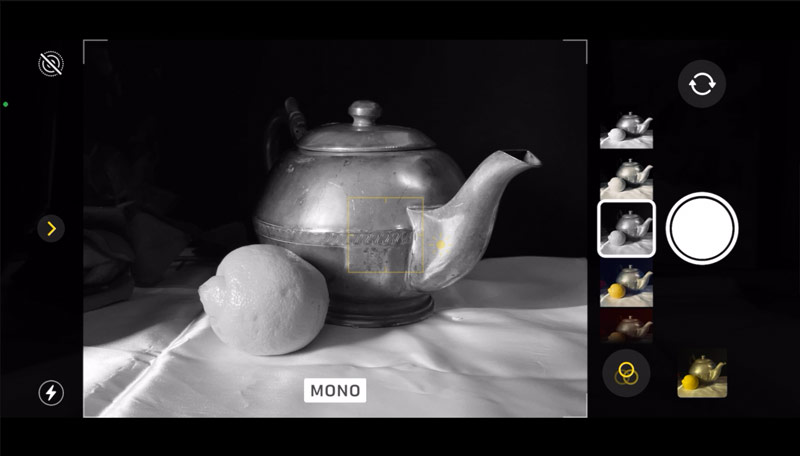 3 Tips to get the best from your phone camera.
9 drawing techniques to improve your accuracy instantly.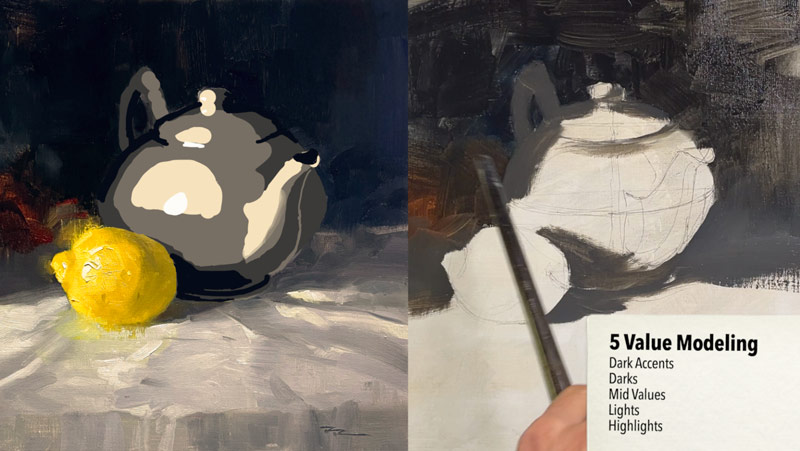 Make beautifully 3 dimensional objects with just 5 values.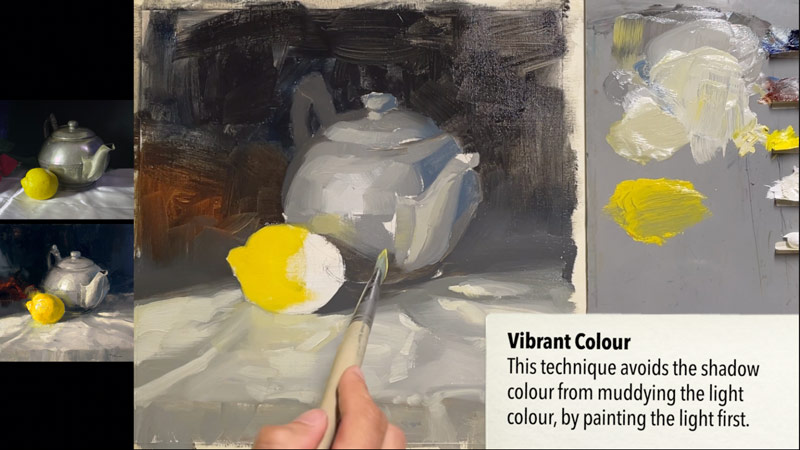 How to maximise vibrant colour in your paintings.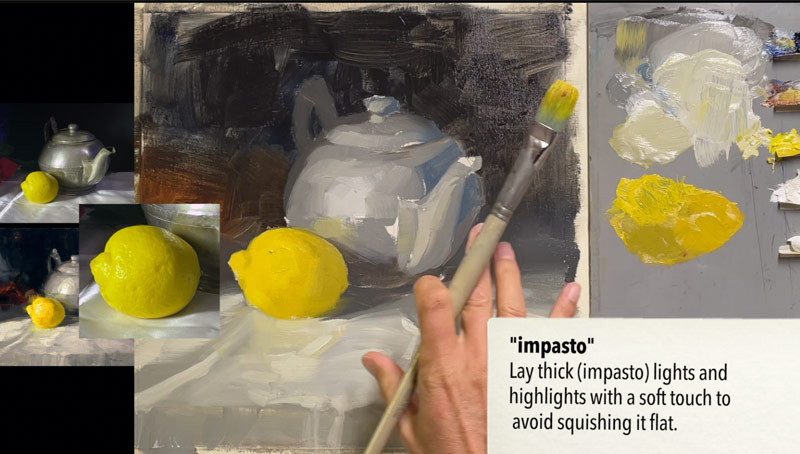 Brush techniques to take your painting from ho-hum to Oh Yum!
Who knew you could learn SO much from a simple still life painting AND have fun!?
Follow me one brushstroke at a time as I take you through the full process of painting a simple still life in oils or acrylics in just over 1.5 hours. Enjoy!
Get the full course here:
https://mypaintingclub.com/lessons/237-Painting-the-Still-Life-in-Oils
Thanks to everyone who was part of the monthly workshop!
(Monthly workshops are available to all Premium Members - $20/month)