April 25, 2018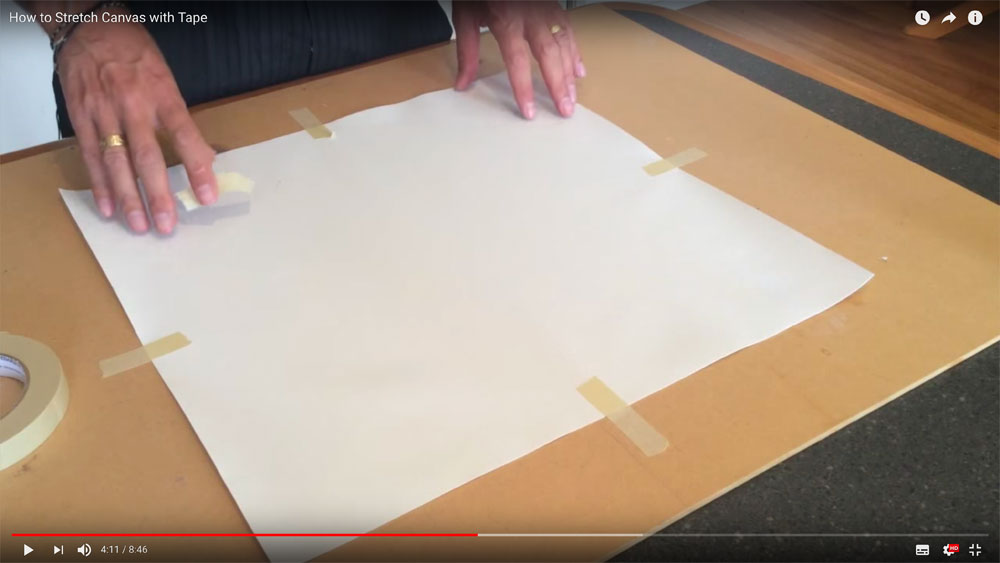 How to stretch a canvas with tape
In the video you'll learn the ins and outs of stretching canvas on a board using tape, ready for painting in the studio or in the field.
I use 3M Automotive Masking Tape, Fredrix Ultrasmooth Canvas and 3mm MDF board coated with acrylic varnish.
The Pros:
1. You can make your canvas an size you want.
2. You can adjust your canvas size in the field by moving the tape.
3. It's a pretty cheap compared to buying pre-stretched canvas or canvas board etc.
4. Sending a painting on a rolled canvas in a cardboard tube is much cheaper and safer than send a stretched and/or framed painting in a big box.
5. The big board makes it easier to see the colours in your painting by blocking out light from behind the easel.
6. The board makes it easy to transport a wet canvas safely back to the studio.
7. It's great to see the finished painting instantly 'framed' in white by pulling off the tape when you're finished. Yahoo!
The Cons:
1. It takes a little more time to organise.
2. You'll need a drawer system to store wet canvases flat once you take them off the board. I use an architects big plan drawer. At a pinch I've also used coathangers with pegs on them to hang wet canvases in a wardrobe.
Note: You really need to get good masking tape to make this work. I've tried several brands. If it doesn't stick when you really pull on it then it's not worth the trouble – better to try another brand. I use 3M Automotive Masking Tape.
Happy Painting,

Richard.