March 4, 2020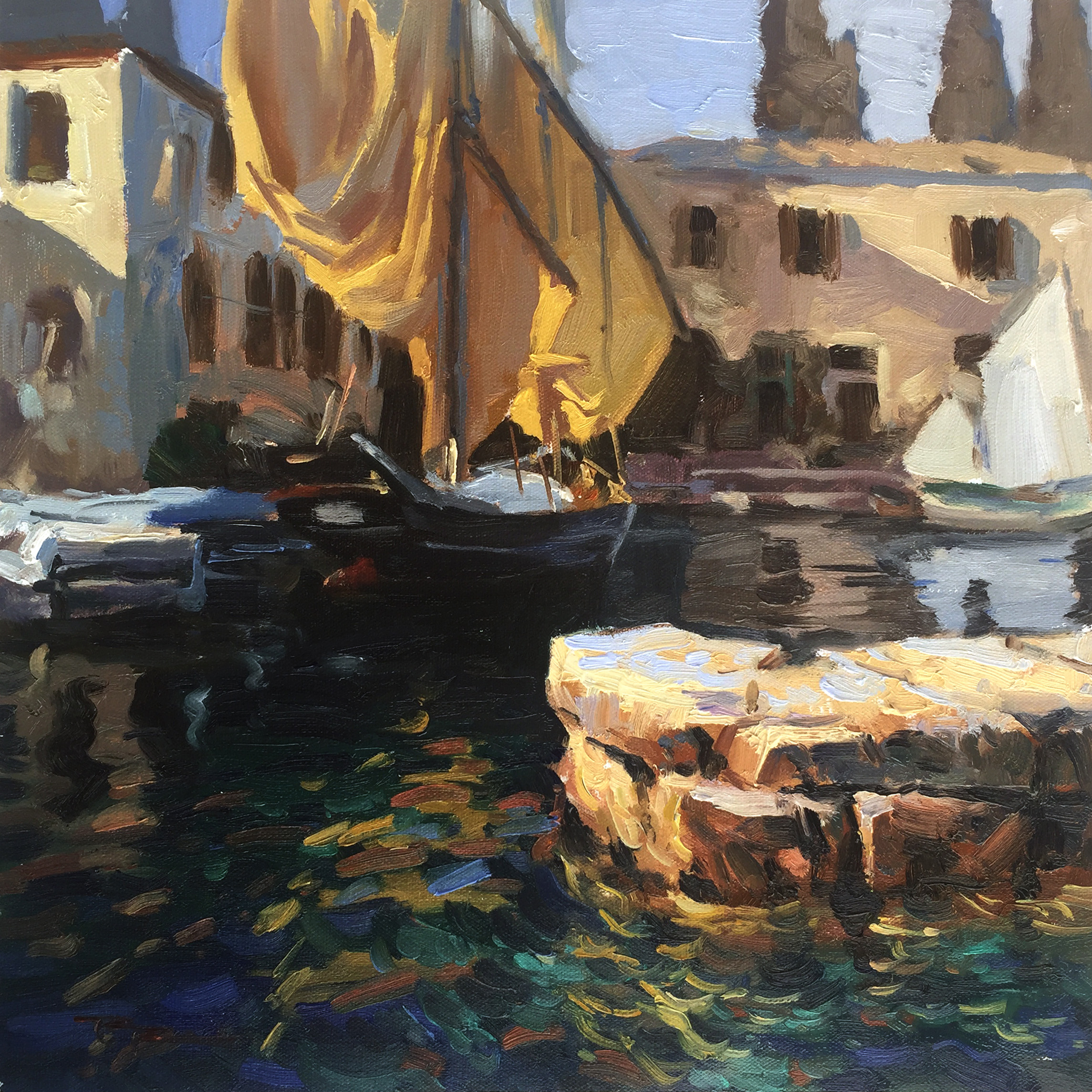 Critiques of student work by Richard Robinson from JOHN SINGER SARGENT - Revealing the Master's Secrets. Enjoy!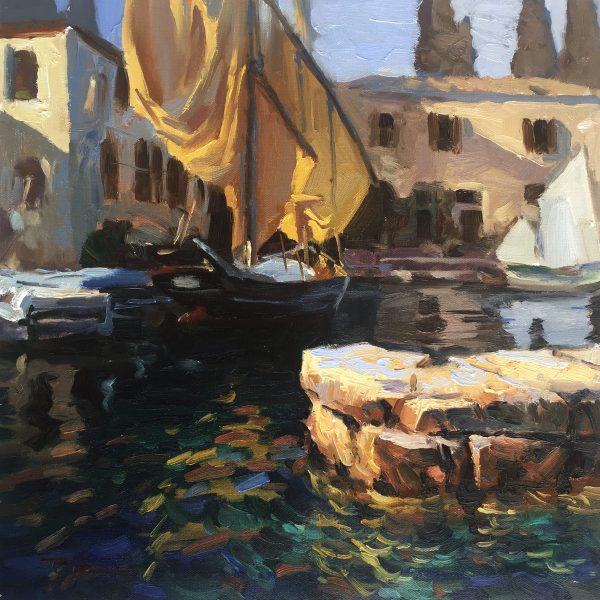 Boat with a Golden Sail, San Vigilio "A Boat with a Golden Sail" 15 x 15" Oil on Canvas by Richard Robinson, after John Singer Sargent.
Student Critiques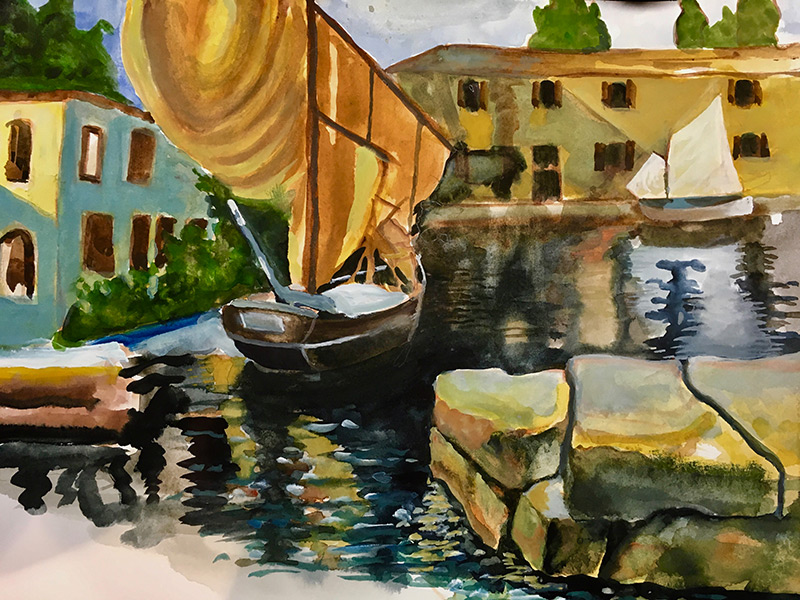 "Sargent" copy watercolour & gouache by Eric Hillmer, Toronto, ON, Canada.
Hi Eric, some nice colour work here, especially in the sails, and it's great to see you trying out different techniques for laying down watercolour and gouache, especially in the reflections.
Three learning points here for you...
Firstly, the drawing is a little off, with the base of the far building being too high, the angle of the boat's waterline and accompanying dock being too steep, and the foreground rocks consuming too much space, detracting from the boat, which is supposed to be the centre of attention.
Secondly, the shadows of the buildings need more greyed purple and brown in them because they're currently too light and colourful, making them unconvincing as shadows.
Thirdly, the cracks atop the foreground rocks could be lighter and more broken because they are currently stark lines attracting too much attention and spoiling the illusion of strong light.
Hope that helps. Happy painting!
Boat with a golden sail by Jochina van Kruistum

Beautiful work, Jochina! The drawing is solid, the colours accurate, brushwork is lyrical and there's a variety of texture, all making for a really nice painting. I can't see much at all to improve on. Good job!
Golden Sail 8x10 oil version of Sargent original by Reenie Mccallum
This is really nice work Reenie, beautiful colour and brushwork and the drawing is spot on. You've pushed the blues in the shadows of the buildings which is a nice colour effect, but it does compete for attention with the sail. I see you've tried to do the same with the blues in the sail but of course it's all to easy to make with blue and orange, so perhaps a violet or stronger orange or green could have been used there to balance the interest in the building shadows.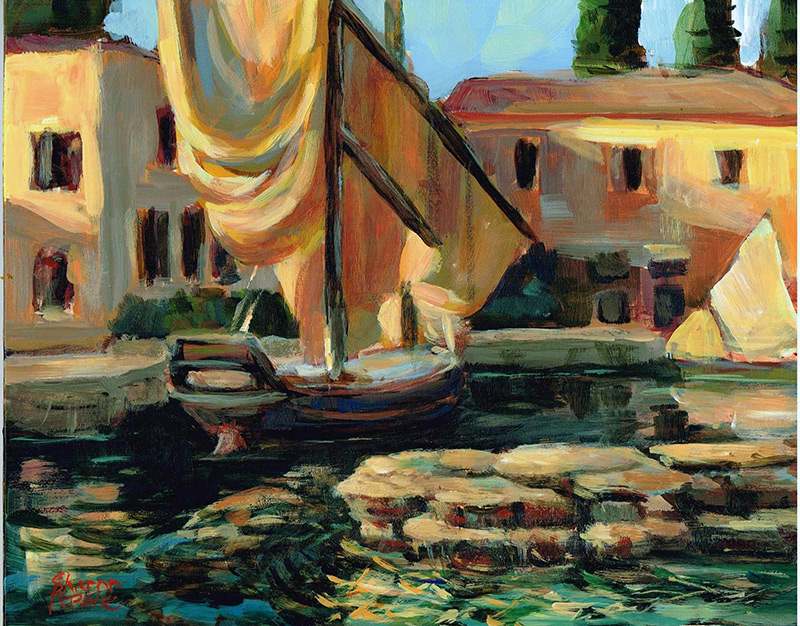 Boat with a Golden Sail 8 x 10 by Sharon Repple, after John Singer Sargent.
Great work Sharon! Strong colour and lively brushwork. Lots of punchy complementary broken colour in there making this really sing. My one piece of advice would be to take another look at the mast and booms which have become a bit chunky. Slim them down by painting the sail back up into them. Then, perfect!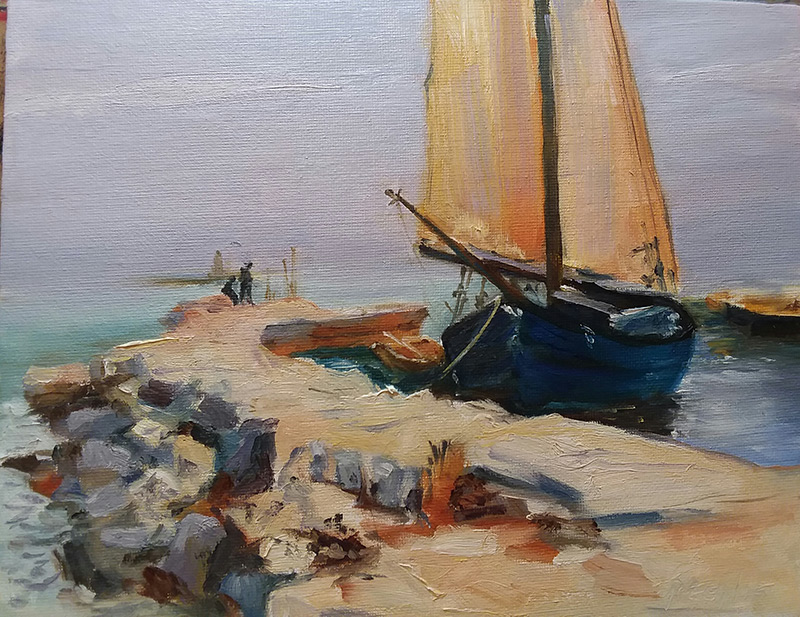 San Vigilio 8x10 oil version of Sargent original by Reenie Mccallum
Great to see you choose a different Sargent painting to work from. I love the design of this one with it's big simple shapes contrasted by the smaller details of the rocks and figures and rigging. You've done a laudable job of recreating this painting in oils from Sargent's watercolour. It's always a challenge to translate the light looseness of watercolours into oils but I'm impressed by the way you handled it. Good job!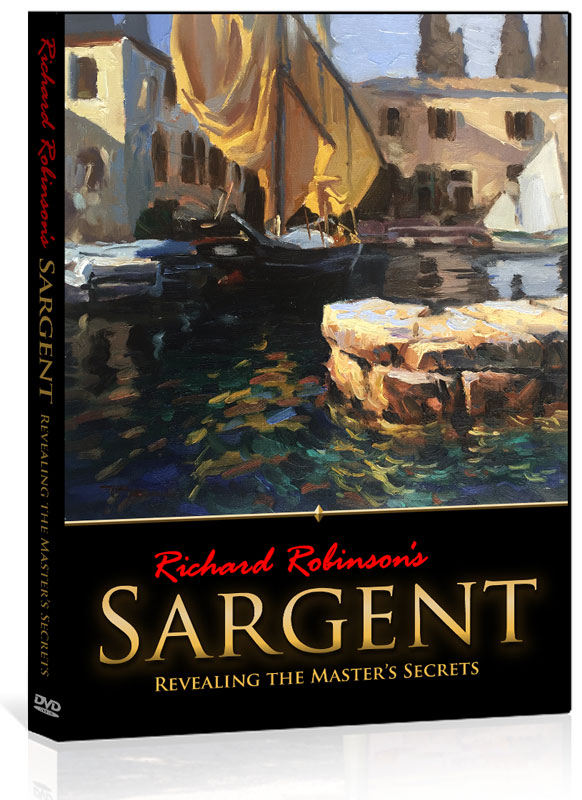 Learn to paint like John Singer Sargent
Join New Zealand artist Richard Robinson in exploring step by step the painting techniques and processes of one of the greatest painters the world has ever known – John Singer Sargent. Enjoy!
Learn About
Sargent's materials and techniques
Drawing and composition
Creating subtle light effects
In-depth colour mixing
and LOTS more!