May 21, 2020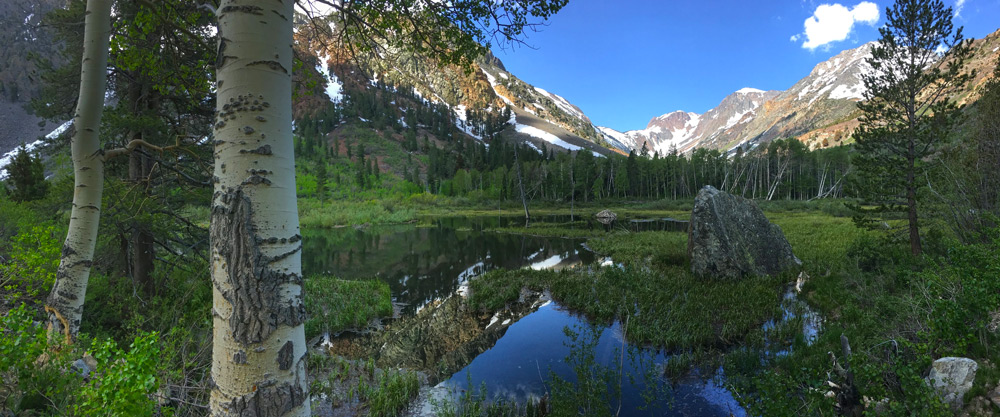 You might well know I've been making painting videos for 12 years now. I like to think I was one of the pioneers in what is now quite an industry. Nowadays there's an awful lot of painters making video lessons. Some of them good, some of them not so much. That's largely because it's become so much easier to do. You can if you want, make a feature length film in HD right on your smartphone. Amazing! (You'll have a very sore neck when you're finished mind you, and you'll be blind.)
HOW HARD IS IT REALLY?
Painters no longer have to invest many thousands of dollars in equipment to produce a video, nor hire a crew of professionals, nor do they have to build a website capable of delivering videos and taking payment and keeping in touch with students. Their are several online platforms that have filled that niche like Udemy.com and Schoolism.com. In fact technology has made the process so relatively easy compared with what it was like when I first started, I'm surprised now when I find an accomplished artist who gives workshops but hasn't yet produced a DVD.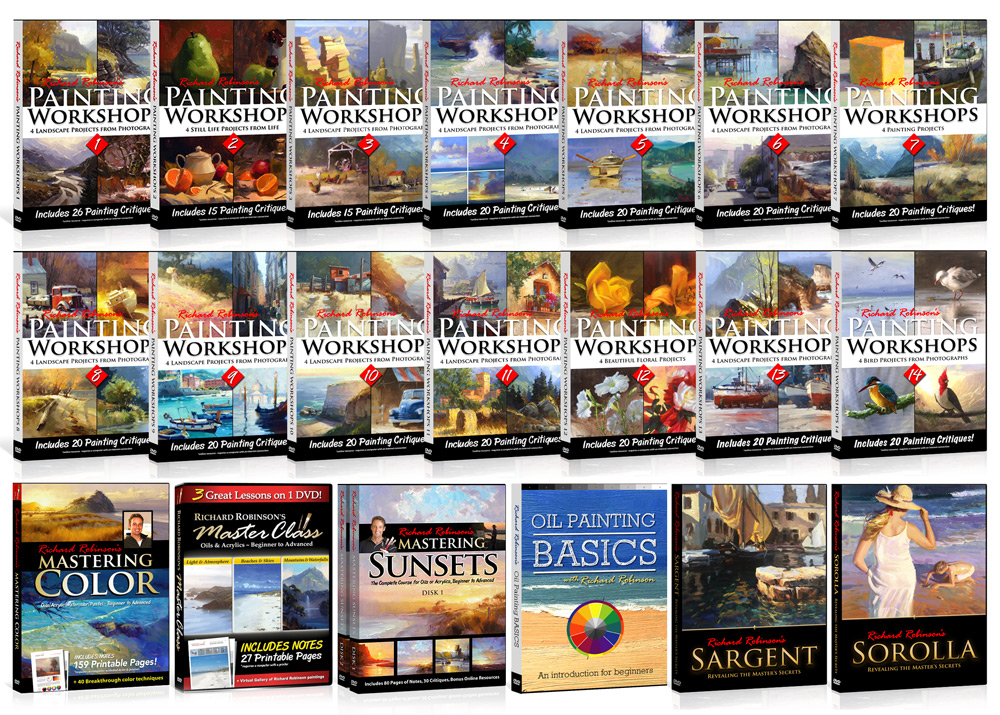 Just some of the videos I've produced in the past 12 years.
The reason for that is, if you start looking into it, that producing and selling a painting video is still a HEUUUGE can of worms! There are so many hundreds of potential stumbling blocks along the journey and it takes such a massive investment in time. For a lot of artists the gamble is too much to undertake. And that's a shame. It's a shame because they don't get to share their hard earned knowledge, or profit from it, and it's a shame because you don't get to experience the richness of their gifts. It's a shame and it's a waste.
EUREKA MOMENT
That's why last year, after making over 200 videos for myself, I (finally) thought it'd be a genuinely nice idea to start making videos for other painters. That, and that fact that it gets me out of the studio meeting other artists. It's literally a win win win idea. I don't know about you but when I have a truely inspired idea, the joy of it brings me to tears. This was one of those ideas.
Here's the latest DVD I've produced, this one for California artist Kathleen Dunphy: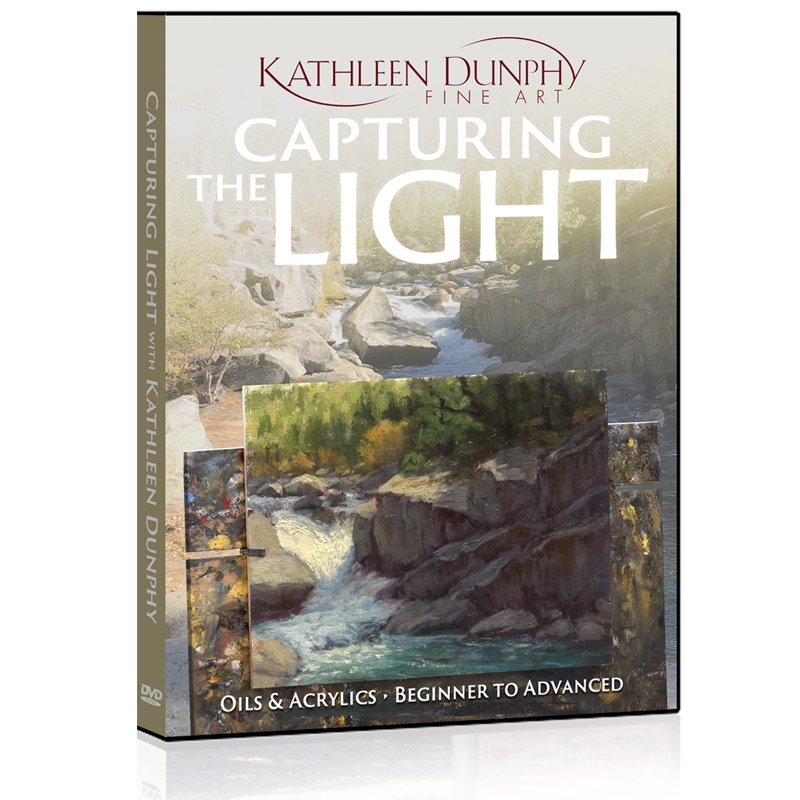 (Learn more about it here: https://mypaintingclub.com/teacher/Kathleen-Dunphy)
This one took 6 months to come to fruition following a fun trip to America to film Kathleen painting in the foothills of the magnificent Sierra Mountains.
Here are some of the shots from that trip: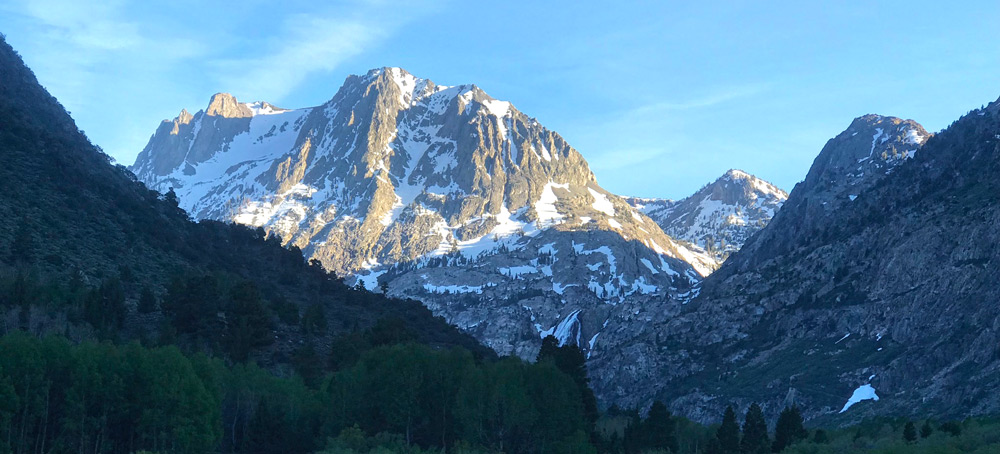 Some amazing mountain at the back of the Sierras. (I don't actually know where I was, but I liked it!)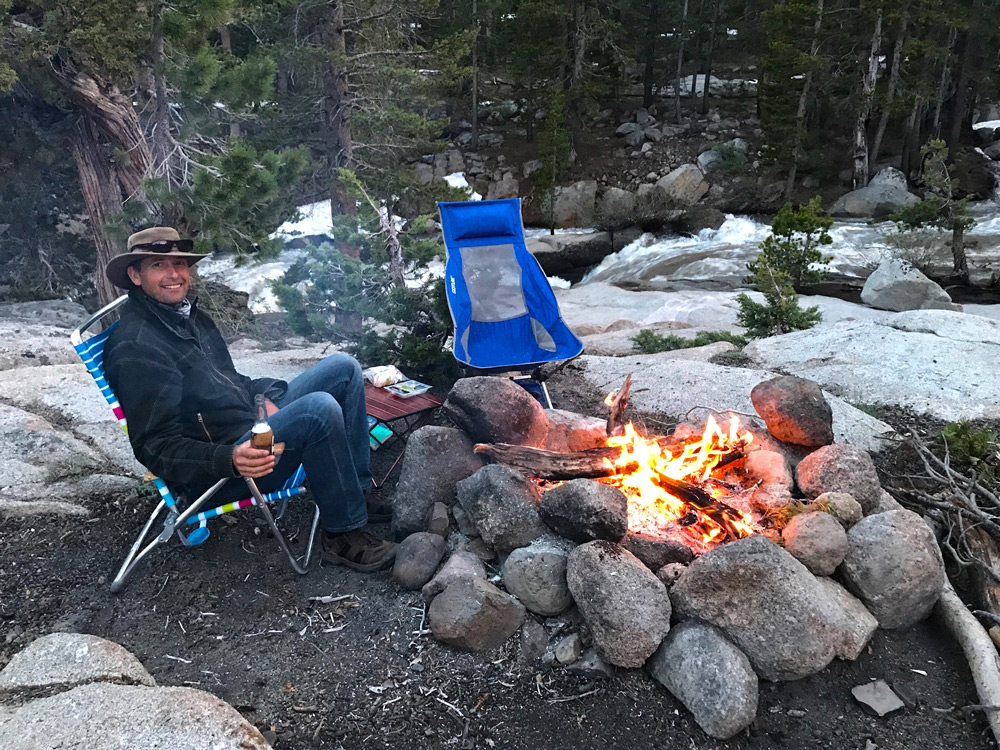 Love me a FIRE! I was expertly hosted and cheuffered once again by the irrepressable Scott Hamill of Santa Cruz fame. Good times.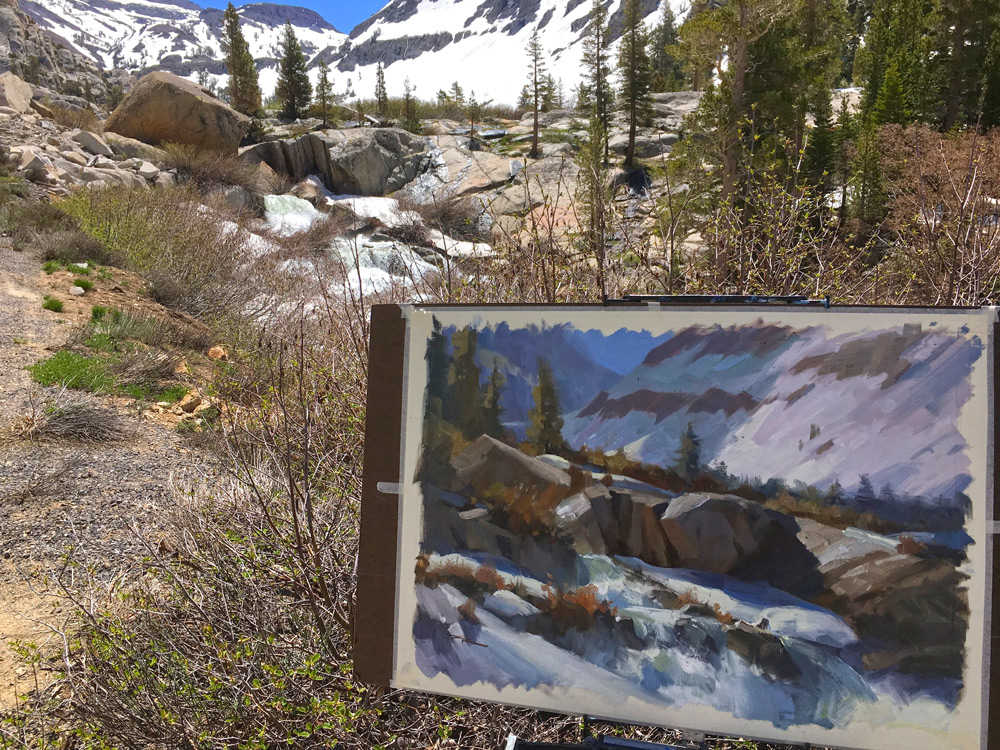 Those stunning big scenes deserved a big canvas.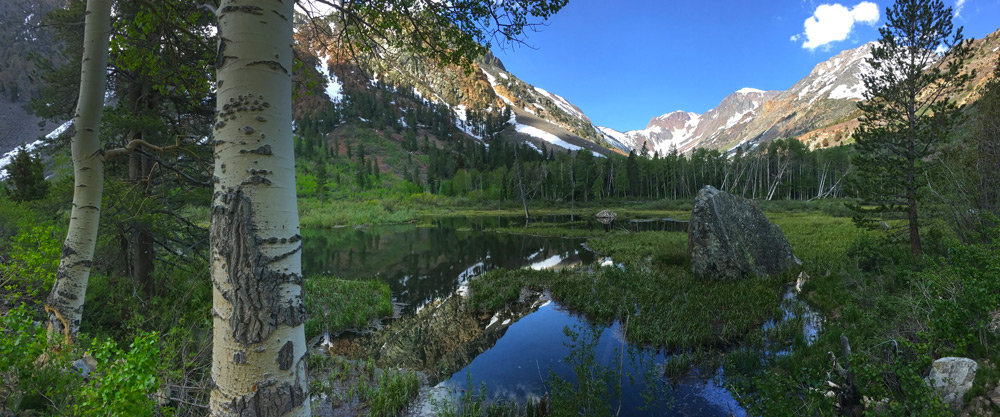 Ok that's just ridiculous.

Awful.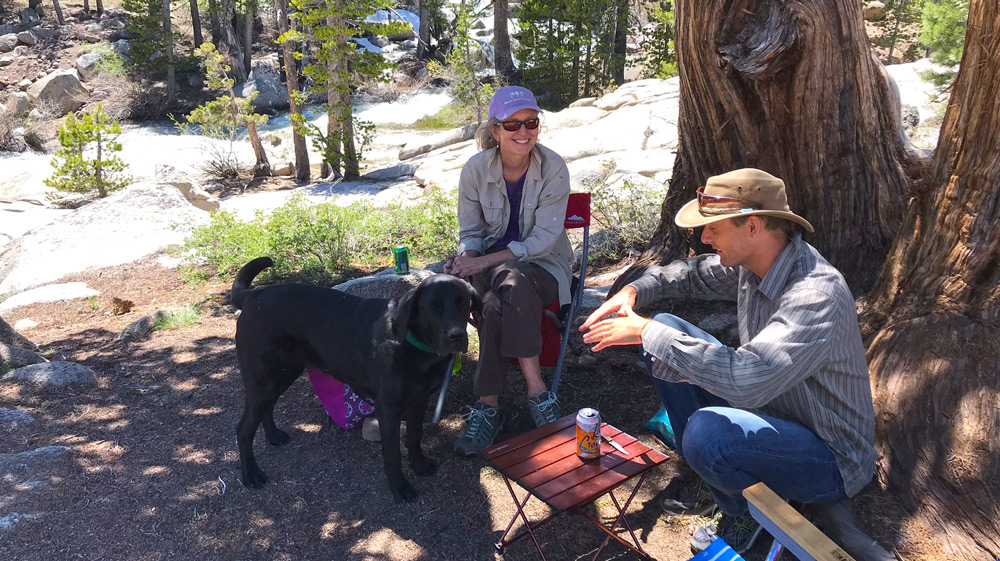 And the company was not bad either.
FILMING
Sometimes outdoor video shoots work great first try, but often not as there's so much to contend with it's easy for one little thing to spoil the shoot, whether it's too much background audio, not enough light, too much light, too much of the wrong kind of weather, any one of a dozen technical problems or just the artist not feeling at the top of their game when the pressure's on. Anything could go wrong, and it often delights in doing so.
For Kathleen's video we shot 3 separate paintings over 3 days and also a few sessions in her studio doing intros and colour mixing etc. They were full days and we kept working till we were totally happy with what we'd captured.
EDITING
Taking those 8 hours of footage home with me to New Zealand, I then had the onerous task of syncing that across the 3 cameras (so it's closer to 24 hours footage in total), and then paintstakingly editing it down to 1 hour 45 minutes of teaching GOLD. Kathleen is a great teacher, so it made crafting the video into a teaching tool all that more easy. Also, we had a great time over there, so every hour I spent working on the editing reminded me of that. After the initial edit we spent many weeks going over it with a fine tooth comb, skyping back and forth till we were both sure we'd left no stone unturned, no opportunity for valuable teaching missed.
PROMOTION
You can make the best video lesson in the world but if no one knows about it it's not going to do anyone any good. Probably about 30% of the time spent on a project like this goes into promotion. That means first of all making the imagery that describes the work, (that's where a great looking demo painting is the key), and then making the trailer video/s and promotional content to suit the various online platforms you'll use to get the word out like facebook, instagram, google ads, blogs, articles, etc etc. If you've got to this point and realise you didn't start with a single unique selling proposition (USP) it's time to start again.
USP - Unique Selling Proposition
This is the first thing any marketing course will teach you, to find the unique essense of your product. ie. What is the main benefit a buyer will receive? In Kathleen's case, she's really amazing at capturing the light in her paintings and in fact she calls her plein air workshops 'Capturing the Light', so it was a no-brainer to give the DVD the same name and direction. Each painting video I make begins with the inspiration of the USP, whether it's painting a glowing light effect, waterfalls, sunsets, mastering color, or any number of other ideas, it all starts there.
THE REWARD
So yes a lot of work goes into an instructional painting video and unless you really enjoy spending weeks and months in front of a computer screen I wouldn't recommend opening that particular can of worms. For me, I love that it uses a whole range of my skills in creative projects that helps other artists all around our beautiful planet. There's something so peaceful and rewarding in that quiet creative state we enter when we're painting. It's an honour to help other artists get there.
From Kathleen, I got this the other day, "You are superhuman!!! Thanks for all the work...and patience! And thanks for making this HAPPEN!!!"
From one of thousands of happy customers we both got, "Hi Kathleen, I just bought your video and watched it immediately. It is probably the best painting video that I own, and I have many. Very well organized presentation and very direct. All of the information is useful and should help me to improve my paintings immediately. Your palette presentation alone justifies the purchase price. Your painting approach and techniques are very easy to understand and retain. It makes me want to paint more. Well done! Many Thanks!"
- Jerry McGinnis, North Carolina, USA.
Niiiice!
:-)
Happy Painting,
Richard Robinson.
Ps. You can get 'Capturing the Light' here: https://mypaintingclub.com/teacher/Kathleen-Dunphy